We first reviewed the Curiscope Virtuali-tee a few years ago and found it futuristic, forward-looking and fun. Whenever these three attributes characterise a technology, we know it's a jackpot. The Virtuali-tee Human Body T-shirt created by Curiscope has all three qualifiers – and one more. It's our secret weapon for blowing people's minds with augmented reality.
Four years have passed since we first laid on hands on it, so it was time to take another look at it and see if our opinions have changed. Spoiler alert: no, we still like it.
What is it? The T-shirt and the accompanying app show colorful human organs and animations to help visualise how our bodies work. The 3D images look so real that physicians often ask Dr. Meskó if these are really his insides. No, they are not.
Turning abstract biological concepts into magic
The UK-based company, Curiscope creates immersive learning experiences in virtual and augmented reality. They developed the Virtuali-tee T-shirt, through which you can see the inner parts of the human body through realistic holograms. Virtuali-tee brings anatomy to life to such a point of illusion which already presents Arthur C. Clarke's famous third law. "Any sufficiently advanced technology is indistinguishable from magic."
Ed Barton, CEO and Co-founder of Curiscope, told The Medical Futurist at the time of our first review that they started the company with the belief that AR would let humans re-imagine how they learn difficult scientific concepts.
"Biology and natural sciences at school just seemed so complex and abstract that they felt hard to relate to. As an adult, I realise how ridiculous that is, but as a child, I really struggled to get into them," he said. The Virtuali-tee is their attempt at compensating for that by offering students as well as adults the option of learning about the human body without the need for a cadaver.
The incredibly popular teaching tool is already present in over a thousand schools and more than a hundred countries. Curiscope's biggest markets are English-speaking countries (US, UK, Australia, New Zealand, and Canada), but it is also popular in Brazil and Germany. Virtuali-tee is already available in several languages: English, German, Spanish, Italian, Korean, and Chinese.
How does the Virtuali-tee work?
You have the option to order the T-shirt in multiple colors and sizes for adults and kids – but for one reviewer, the child sizing turned out to be smaller than expected so you may need to order one size up to be on the safe side. Dr. Meskó bought an adult T-shirt, and he had no size-related trouble. Upon having received the T-shirt and having the app downloaded – with a remarkably user-friendly interface -, it is fairly easy to use.
The sign on the T-shirt is a QR code. When the user points the camera of the accompanying smartphone to the skeletal pattern worn by another person while the app is open, the app detects it and starts an anatomy animation.
However, you have to be careful that the T-shirt is not creased because the app cannot recognise the code then. Also, it does not work from very long distances – pointing the phone to the T-shirt works best from a maximum of two steps backward; and it loses the connection fairly quickly if you aim with your device in other directions than the T-shirt itself.
Nevertheless, the app works if you switch your smartphone to 'selfie-mode' so you can wear the T-shirt, hold out your hands with the phone and see the AR-organs.
Virtuali-tee works with many types of Android and iOS smartphones, tablets or other platforms – and for a more genuine experience, you can also try it with a VR headset.
Get into the virtual intestines
The real adventures begin when you open the app and start seeing organs. First and foremost, you will meet Hans Glover, a holographic guide to the body. Ed Barton told The Medical Futurist that "it was built around the idea of hands eventually becoming your AR interaction device. 'Hands' became 'Hans' and with an open body nearby, he had to be wearing gloves. Hence ending up on our wacky doctor name, Hans Glover. He's an animated character that serves as your guide, important in AR where often information is best delivered through audio. Funnily, he has a bit of an accent, so we have a lot of people confusing him with Die Hard super-villain Hans Gruber."
He indeed has an accent, which Curiscope might need to reconsider if it wants children to pay attention to their content more – they might use the app for longer if Hans Glover didn't have the accent.
Otherwise, the app works smoothly – you can go through the anatomy of the digestive, respiratory, skeletal, renal, and circulatory systems, get into the intestines or inside the blood vessels, and learn and read a lot about their workings. Moreover, Curiscope supports teachers with a printable QR code and free lesson plans including the Virtuali-tee. Go STEM students and teachers!
Watch your heart beating live in AR!
An incredibly cool feature of the Virtuali-tee lets users track their heart rate and watch their heart beating live. It's not the T-shirt, but the smartphone which is monitoring the heart rate – by using the camera.
The technology involves a technique called Contact Photoplethysmography (yeah, it's challenging to pronounce it). It measures the amount of light absorbed by the body: more blood absorbs more light, so as your heart beats and your blood pressure rises, your organs take in more light.
Using a version of this technique, it is possible for the smartphone camera and Curiscope app to track the user's heart rate in the same way, by having the user place a fingertip on the camera lens. The image is then sampled and analysed until a regular pattern is established, and the animation can be started to tie it into the wearer's heartbeat. It's simply mind-boggling!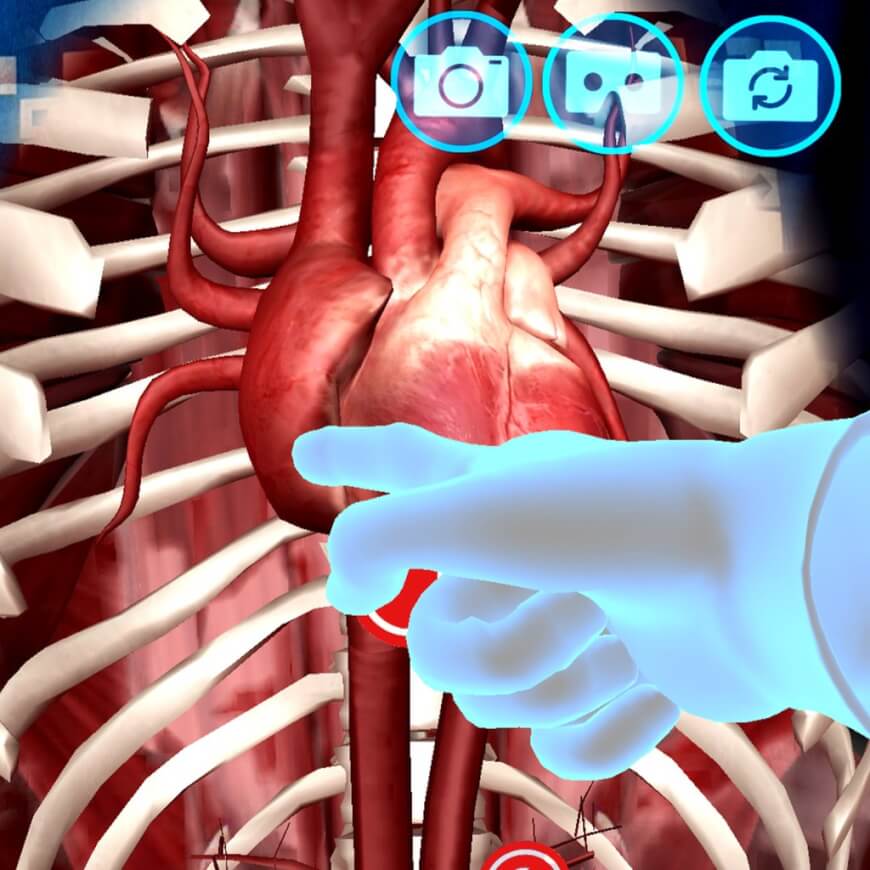 What does the future hold?
In the future, simulation tools will be widespread in healthcare. With their help, medical students will learn anatomy, doctors can prepare for complex surgeries, and frightened patients will understand better what will happen to their bodies in the OR.
At The Medical Futurist, we are building a community for making a bold vision about the future of healthcare reality today.
If you'd like to support this mission, we invite you to join The Medical Futurist Patreon Community. A community of empowered patients, future-oriented healthcare professionals, concerned health policymakers, sensible health tech developers, and enthusiastic medical students. If there were ever a time to join us, it is now. Every contribution, however big or small, powers our research and sustains our future.
Click here to support The Medical Futurist from as little as $3 – it only takes a minute. Thank you.
The post Looking Inside Your Body In 3D – The Curiscope Virtuali-tee Review appeared first on The Medical Futurist.