Artificial intelligence, probably the most powerful technology trend today, will transform healthcare. In some areas, it has already arrived, extending the diagnostic capabilities of radiologists or dermatologists, supporting triage decisions in emergency units,  looking for promising new drug candidates or allowing locked-in patients to communicate with others. 
But this is just the beginning. A cultural and technological revolution is just around the corner. What will it bring? How will it reshape the art of medicine? This is the topic of our most popular e-book, A Guide To Artificial Intelligence In Healthcare. The latest update, as always, aims to bring you up-to-speed and offers a full-scope overview of what to expect and how to adapt to it. 
For this article I have picked 8 exciting examples of algorithms lending a hand to healthcare professionals, depicting applications already in clinical use and providing value to medical professionals and patients.
1. A.I. can support the early detection of atrial fibrillation
Atrial fibrillation (AFib) is one of the conditions that can increase the risk of stroke, heart failure, and other heart-related complications. Until recently, it was overwhelmingly difficult to deal with AFib, as it needs continuous electrocardiogram (ECG) monitoring to provide data about heart rate and rhythm.
That has changed with the appearance of digital health devices. For example, AliveCor's Kardia is an FDA-approved, medical-grade ECG recorder – and the latest model is literally the size of a credit card, see our review here. It can tell you within a minute whether your ECG is normal, whether you possibly have AFib or experience some "unclassified" risks.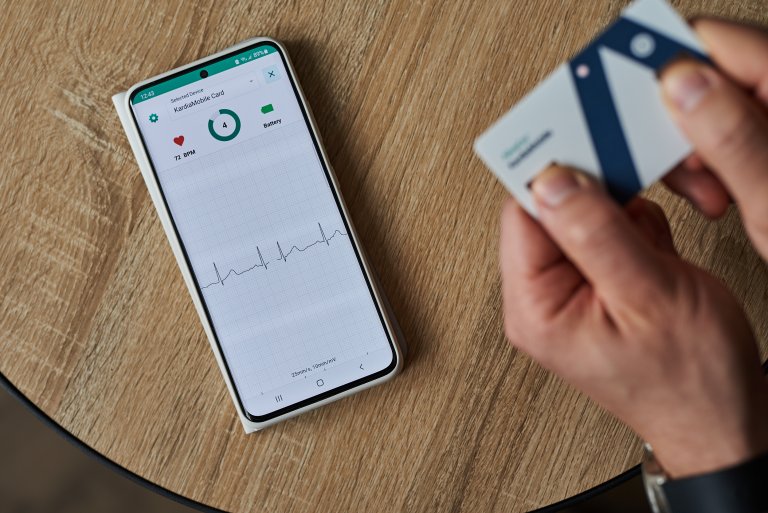 The Kardia algorithm runs pretty much invisibly in the background, analysing readings on the go. However, it is "the most sophisticated A.I. ever brought to personal ECG" – according to the company. "This suite of algorithms and visualizations will provide the platform for delivery of new consumer and professional service offerings beyond AFib, by allowing a much wider range of cardiac conditions to be determined on a personal ECG device."
2. A.I. reduced hospital deaths in sepsis
Artificial Intelligence (A.I.) has the potential to highly optimise processes in hospitals and even eliminate problematic alarm fatigue. By enhancing efficiency, A.I. will immensely benefit nurses.
Duke University researchers demonstrated such an application of A.I. in nursing. Their Sepsis Watch deep learning algorithm helps assess a patient's risk for developing sepsis. It automatically alerts the hospital's rapid response team in case of a high-risk patient and guides them through the first 3 hours of care administration. This is critical in preventing complications.
The university has been working on this algorithm for years and implemented the model in clinical work in 2018. According to Mark Sendak, a physician and clinical data scientist at Duke who co-led the project, Duke is conducting a final analysis, but he noted that mortality seems to be down.
Hospital chain HCA Healthcare also developed a predictive algorithm called Sepsis Prediction and Optimisation of Therapy. It continuously monitors patient data to identify potentially impending sepsis cases. The algorithm is able to detect sepsis six hours earlier—and more accurately—than clinicians, enabling the health care system to cut sepsis mortality rates across 160 hospitals by nearly 30% – The Wall Street Journal reported.
3. Pediatric seizure-detecting smart bands
Epilepsy is the 4th most common neurological problem, following migraine, stroke and Alzheimer's disease in the frequency of occurrence in the United States.
Wearable devices, like the Empatica's Embrace wristbands, are designed to notify the user and/or relatives and caretakers about a seizure or the risk of seizure.
Clinical testing of Embrace on 141 patients diagnosed with epilepsy, including 80 pediatric patients, yielded a 98% accuracy rate for detecting generalised tonic-clonic seizures, the company said.
4. Skin-checking algorithms help out dermatologists
Skin-checking applications allow users to take pictures of their suspicious skin lesions, upload these pictures to a server, the images are first evaluated by an A.I. algorithm and the results will be later validated by a dermatologist.
These algorithms work by comparing user images to the vast database in the background, coming up with a preliminary diagnosis in just a few seconds.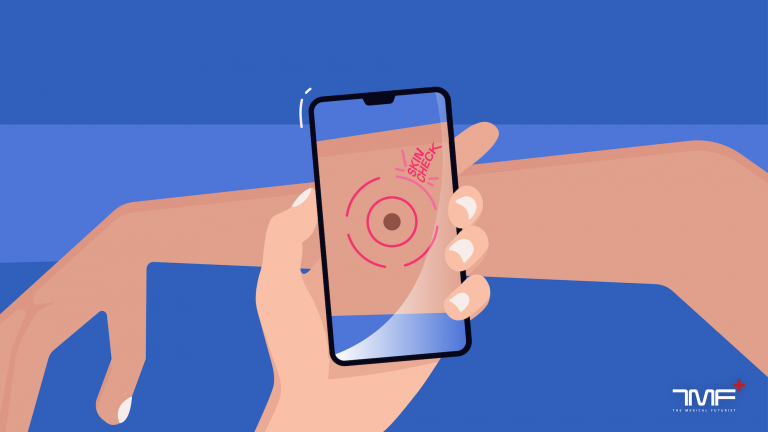 We could even conclude that if such a system provides follow-up and access to doctors and treatments should the need arise, these are close to the optimal setup – they filter out non-existing cases and let dermatologists focus on the real issues.
5. A.I. detects stroke on CT scans and helps clinicians win the race against time
Viz.ai's flagship solution, Viz LVO, uses A.I. to automatically detect suspected large vessel occlusion (LVO) strokes on computed tomography angiography (CTA) imaging and directly alert on-call stroke specialists about potentially treatable patients in a standalone or multi-hospital network.
The first major news about the algorithm came out when the Southeast Regional Stroke Center at Erlanger started using the algorithm in 2018. Many healthcare institutions have followed suit since then. A recent, large, real-world multi-centre study using Viz.ai found a median time-to-notification of five minutes and 45 seconds across all of the sites involved when using Viz LVO – the company published. 
In the study, containing the largest health A.I. data set to date, Viz LVO achieved 96 percent sensitivity and 94 percent specificity in identifying LVOs in 2,544 consecutive patients from 139 hospitals using scanners from multiple manufacturers. Faster triage with Viz LVO enables the identification and treatment of more patients who are eligible for thrombectomy, which improves patient outcomes and reduces the chances of long-term disability.
6. A.I. autonomously detects diabetic retinopathy using retinal images
Artificial intelligence (AI) screening algorithms are a promising solution to the growing global diabetic retinopathy (DR) screening burden. Many AI algorithms have been shown to perform at or above the level of human experts on DR classification tasks when evaluated on their internal datasets.
This study aimed to analyse how accurately these algorithms work by validating seven commercially available DR screening algorithms on a large-scale dataset collected from two Veterans Affairs (VA) hospitals. Researchers examined seven commercially available algorithms – two of which have FDA clearance – and found significant differences between their performance. 
Their findings stress that although automated diabetic retinopathy (DR) screening systems can greatly expand access, they do not replace routine eye examinations. Current commercial DR screening systems are approved only to diagnose referrable DR using specific devices and protocols. Sole reliance on automated screening systems may miss additional important features, such as undiagnosed glaucoma, macular degeneration, retinal detachments, or choroidal melanomas. DR screening systems should supplement traditional eye examinations to expand screening access, while also upholding a high standard of care.
7. A.I. helps pathologists identify metastatic breast cancer
Breast cancer is the most prevalent cancer diagnosis for women. According to the latest Global Cancer (GLOBOCAN) statistics from the World Health Organization (WHO), accounting for 11.7% of the incidence and 15.5% of the mortality, ranking first among all cancers.
Deep learning models aiming to find early signs of the disease are around for a good number of years. Although we have not yet arrived at an omnipotent solution as of yet, studies show that combining deep learning systems' predictions with human pathologists' diagnoses improves patient outcomes.
There is still a long way to go, as this study points out "DL-based computerized image analysis has obtained impressive achievements in breast cancer pathology diagnosis, classification, grading, staging, and prognostic prediction, providing powerful methods for faster, more reproducible, and more precise diagnoses. However, all artificial intelligence (AI)-assisted pathology diagnostic models are still in the experimental stage. Improving their economic efficiency and clinical adaptability are still required to be developed as the focus of further research."
8. A.I. builds complex and consolidated platforms for drug discovery
Time and efficiency are key in the operation of the pharmaceutical supply chain. Its main objective is to deliver the right medication to the person in need as fast as possible – to aid the healing process in the best way possible. While the drug designing, manufacturing, and distribution supply chains have been changing constantly due to new technologies, the scope and quality of the recent transformation are much more profound.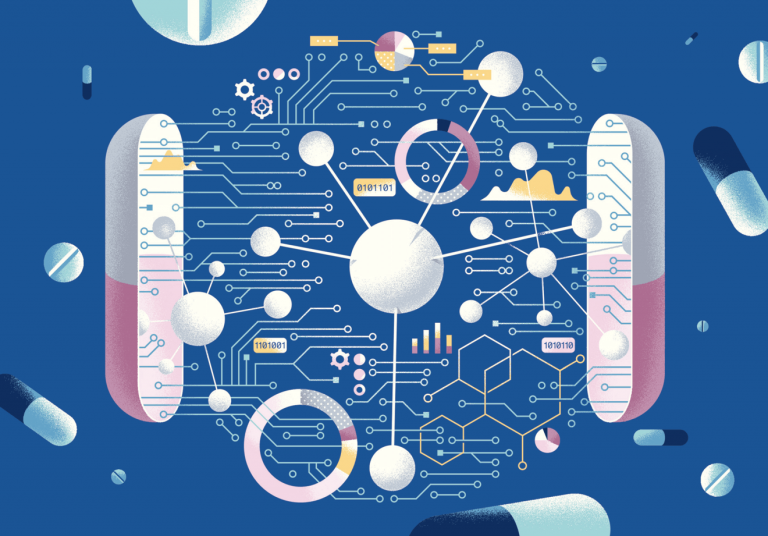 A.I. solutions could fundamentally alter the traditional process of designing drugs. It could make drug development much cheaper and more effective; remarkably shorten the drug production circle, and help out pharma in finding new drugs. All this without burdening clinical trials and accumulating costs.
According to estimates, it takes about 12 years and $2.9 billion for an experimental drug to advance from concept to market. In 2019, A.I. pharma startup Insilico Medicine identified a potential new drug in only 46 days. This is the difference A.I. is capable of. 
San Francisco-based Atomwise uses supercomputers that root out therapies from a database of molecular structures. During the Ebola epidemic in 2015, Atomwise used its A.I. algorithm to identify two drugs with significant potential to reduce Ebola infectivity. This analysis which typically would have taken months or years was completed in less than one day.
There is so much to look forward to
These are just a few exciting examples of how artificial intelligence will enhance the capabilities of healthcare professionals. The field is vast, and it doesn't take a futurologist to predict how profound this transformation will be. There is still a long way to cover, not only from the technological point of view but also in working out how to properly regulate algorithms, how to integrate new solutions to everyday clinical practice and how to relate to this paradigm shift as medical professionals and/or patients. We hope this brand new update of our 'A Guide to Artificial Intelligence in Healthcare' will help you on this journey.
The post The 8 Most Reassuring Examples of Using A.I. In Healthcare appeared first on The Medical Futurist.