Having a comfortable and reliable way for prolonged blood pressure monitoring is something we've been long waiting for. Holter monitors do the job reliably, but they are far from being comfortable, even if you manage to somehow find a tolerable sleeping position with the bulky box, it will wake you up several times during the night inflating the cuff. 24-hour measurements are clearly more informative than sporadic readings – and we also have to mention that there is no guarantee that patients carry out the measurements properly with a traditional device. This is why I had high hopes when starting to test the BioBeat 24-hour blood pressure monitor.
The technology itself is based on reflective photoplethysmography (PPG), a noninvasive optical method which measures the heart rate, blood oxygen saturation, blood pressure, and several other cardio-pulmonary parameters.
I have tested several blood pressure monitoring devices in the past few years, but none of them have truly delivered so far. While the iHeart was pretty convincing as a blood pressure monitor, it didn't offer much more than a traditional device with a fancied-up look. The Omron on the other hand was plain useless as a smartwatch. So, let's see what we can expect in this area today. 
What's in the box?
A sensor
A patch
A very thick users manual, consisting of approximately 80% of the total weight
No wires, no chargers (not needed for the device).
How to set it up?
It was very straightforward. I started by registering for the mobile app, filling out a short questionnaire and had to carry out two reference measurements with a traditional BP monitor.
When it was done, I could apply the patch and click on the sensor – both went effortlessly.
The actual test
To carry out the 24-hour goal, it is best to choose a day when you survive without taking a bath/shower and without exercise – to make sure the equipment stays in place. I have to admit I went for a short run in the end, as I was certain at that point that it would stay in place.
The monitor worked in perfect silence, with no annoying beeps. There was no skin sensation of it, but it was slightly visible through my T-shirt. The 24 hours went by without a noticeable event, and I was reminded by the application when it was time to remove the device.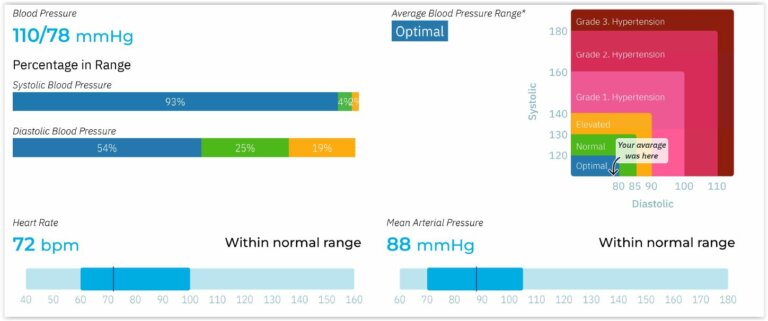 The reading summary was completed in about a minute, in the form of a handsome and clear-to-understand pdf file.
The report starts with a 24-hour chart of the systolic and diastolic BP and heart rate readings, and the metrics are interpreted on a 6-grade scale from optimal to grade 3 hypertension. You will not only learn your final results but also the percentages in each range, for both values, for your heart rate and mean arterial pressure.
It is followed by daytime and nighttime statistics, and finally a percentage histogram for systolic and diastolic blood pressure and the heart rate. The last "About your 24BP report" section offers simple definitions for the terms used in the report and some general advice on when to contact your doctor.
How reliable is it?
This is of course the principal question. According to studies, partially funded by the company it works reliably. Subjectively, this is backed by the random readings I carried out with a traditional blood pressure monitor throughout the day – although this obviously isn't a scientific verification.
To get to know the technology and its capabilities better, I recommend two publications.
"This study shows similar and high agreements between BP measurements obtained using a PPG-based non-invasive cuffless BP device and a cuff-based BP device across sex, BMI, and skin color groups."
"…the considerably higher sensitivity of wearable sensors can revolutionise clinical trials by enabling earlier identification of abnormal reactions with fewer subjects." – says the other published on Nature.com.  
Pros and Cons and my final verdict
First of all, I liked this device, it was indeed comfortable, I think it has a place in healthcare, and it is filling an important niche. Blood pressure monitoring needs to move towards photoplethysmography-based devices. The price is also okay-ish, it is supposed to be $99, although this info can't be found on the company's website.
Pros:
24 hours-long blood pressure monitor with a skin patch(!)
comfortable wear and easy set-up
condense and info-rich report
Cons:
skin patch can only be used once – although the sensor is intended for multiple uses
available info on the official homepage is lacking (or impossibly hard to find), I could neither find the price nor detailed technical specifications
The post A 24-Hour Skin Patch That Monitors Blood Pressure: The BioBeat Review appeared first on The Medical Futurist.