If we are looking for the one thing common in the healthcare systems in various countries, is that no one has ever been truly satisfied with their own. The level of satisfaction/dissatisfaction of course varies widely between countries and is closely related to the economic performance and possibilities available for the given country in the past centuries/decades. But as we will see, with having focus and working for the right goals, it is possible to fully transform a country and its healthcare in just a few decades.
Can we, dreaming freely, come up with the perfect system? There are so many good examples all over the world after all, related to certain sub-segments. Let's imagine what healthcare would look like if we could combine the best practices.
This is my take on the super-system.
1. Business incubation from Israel
A robust, efficient and customer-friendly healthcare system is impossible without a healthy startup scene and tons of innovation. This segment of our super-system will arrive from Israel, which is considered one of the most innovative economies, and its fame doesn't fall short in the digital health space either. 
What is the secret?
Israel was able to integrate multiple important factors:
A buzzing startup ecosystem with ample funding
A robust digital health innovation infrastructure directly wired to hospitals – the number of hospital-sponsored innovation centers or healthcare accelerators is reported to be the highest per capita in Israel
Almost 30 years' worth of electronic medical records
According to the latest (2019), full digital health report by Startup Nation – a nonprofit think tank analysing the Israeli startup scene – Israel has almost 30 years of accumulated data in its healthcare system, 98% of which is digitized. In early 2018, the Israeli government approved a budget of over $300M to support digital health as the next economic growth engine. In order to fully acknowledge this figure, we have to note that the country's population is just over 9 million people. Based on the H1 2021 preliminary report, the three top-performing sub-sectors in the Israeli digital health universe were diagnostics, decision support and digital therapeutics.  
2. Government policy around e-patients from Denmark
Denmark's digital health strategy is one of the most forward-looking examples of a government-supported objective to adjust the medical arena to the 21st century.
What is the secret?
A nationwide strategy with a strong citizen focus
Based on tons of quality data
The third happiest country in the universe has one of the most advanced digital health systems alongside an elaborated and concise national digital health strategy. The document emphasizes the importance of the cooperation of each and every healthcare actor through the easiest and fastest way, technology, with a clear purpose: to build an integrated network focusing on patients and looking at the person as a whole, not just at the individual diagnosis.
In the Danish healthcare system, all residents are entitled to public healthcare benefits, have free and equal access to general and specialized practitioner services, and digitisation is at a high level. Everyone gets access to the Sundhed.dk patient portal, which allows any patient to access their own health data, make appointments with doctors or look up their complete patient history. But that's only one type of data registry: medical professionals, researchers or institutions get access to a wide range of clinical databases, biobanks, and lab- or imaging systems – with high-quality data.
The country still has its challenges in integrating its incredible databases: information on causes of death has been collected since 1875, and cancer incidence has been registered for the whole country since 1943 just to name two examples – and there is still a long way towards a fully unified system.
However, of all the global examples we have ever seen, Denmark got closest to building up an integrated digital health framework focusing on patients and guarding their data against any security or privacy issues.
3. Medical association and leadership from Canada
The Canadian Medical Association seems to be best adapted to the new role these traditional organisations will fulfil in the digital health era.
What is their secret?
Free membership
A strong focus on upcoming professional challenges
Creating a Virtual Care Task Force in collaboration with other professional bodies
Physicians, nurses, surgeons, medical students, and other medical professionals are looking for yardsticks to smoothly take the transition from "analogue" to digital healthcare systems, and medical associations have all the means to give a helping hand. They have a structure to educate actors in the healthcare scene about the latest technological changes, and how to integrate digital health achievements into practices or they might even finance specific projects in the area of digital health or health IT.
Medical associations could also provide a long-term vision of the future of healthcare and help tackle the hurdles in front of reaching a desired state of play. Thus, these societies have a huge responsibility in preparing doctors and nurses for the coming years. In the more and more complex digital, financial and scientific life, physicians could feel left alone, not to say left behind, without the efficient support of umbrella organizations.
Not many of these organisations shine in their roles. Some are stuck in the past. Some are too occupied with internal fights for positions. And some are just doing poorly in representing the sector they ought to represent.
Although you can obviously find criticism of the Canadian Medical Association, we still believe they are the best example we currently have. The Virtual Care Taskforce they created in 2019 with the College of Family Physicians of Canada and the Royal College of Physicians and Surgeons of Canada had well-defined priorities. They focused on four areas. 1. Interoperability and governance; 2. Licensure and quality of care; 3. Payment model; and 4. Medical education.
This kind of comprehensive and forward-looking approach will be much needed in the future of healthcare everywhere.
4. Regulatory body from the USA
With all the troubles the United States has with its healthcare system – it's the world's most expensive system with huge inequities in access to quality medical care -, their regulatory framework is probably the best.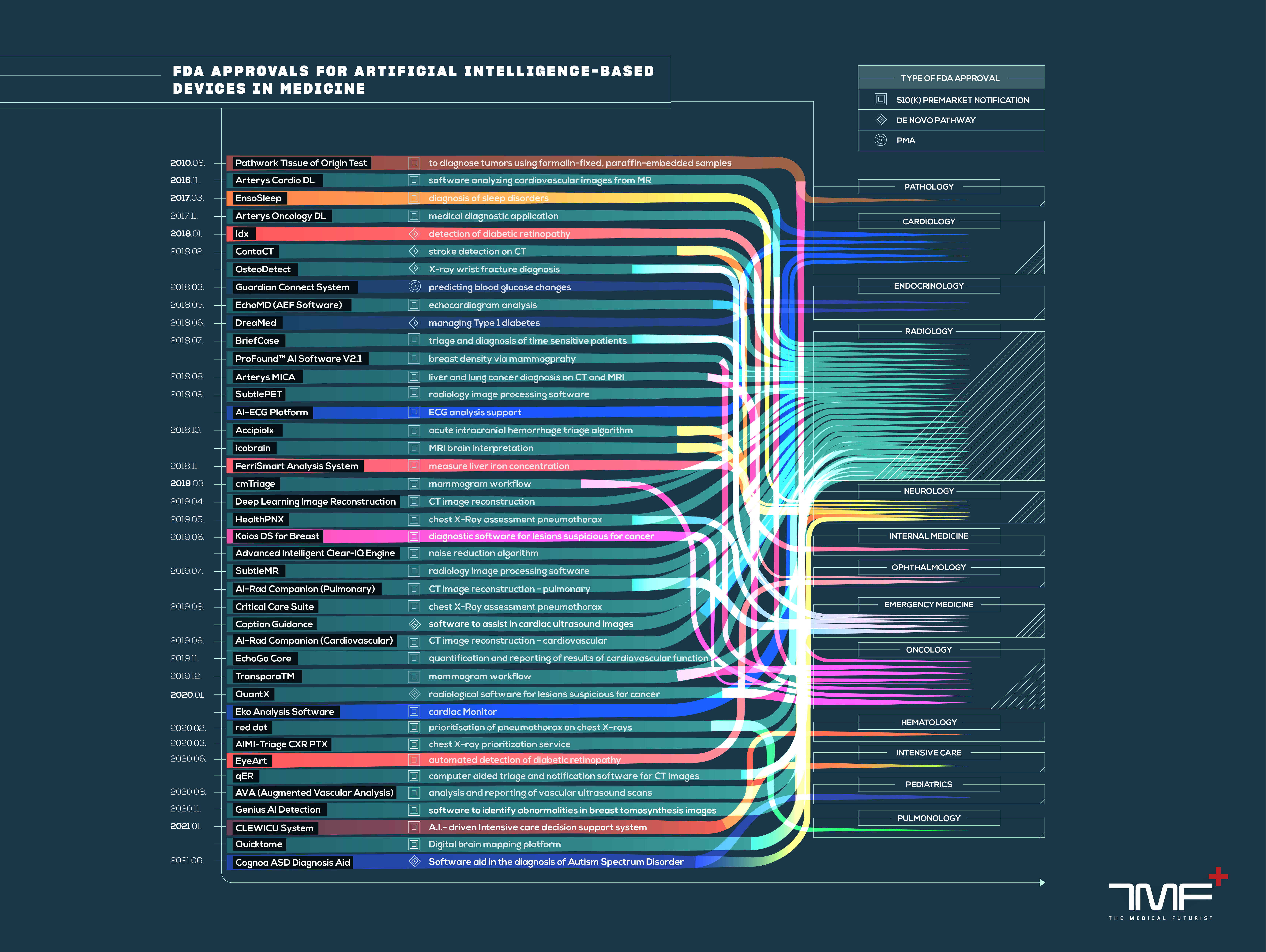 The US Food and Drug Administration (FDA) has checked many firsts: they established the first patient advisory board, the first workshops for companies doing 3D printing, the first approved 3D printed medication, and they were the first to regulate artificial intelligence algorithms in the healthcare segment.
What is their secret?
They keep an eye on all related industries and translate technological and cultural challenges into up-to-date regulations
We have analysed FDA-approved algorithms multiple times, you can find our peer-reviewed study here, the constantly updated database here, and a detailed article here.
For the regulation process, here are the basics. Prior to legally marketing their medical hardware or software in the U.S., companies must submit it to the FDA for evaluation. Medically-oriented A.I.-based algorithms have 3 levels of clearance and they must meet specific criteria requirements to be granted a clearance. These clearance levels are 510(k), premarket approval (PMA) and the de novo pathway.
An algorithm gains 510(k) clearance if it is shown to be at least as safe and effective as another similar, legally-marketed algorithm. PMA is issued to algorithms for Class III medical devices, or those with a large impact on human health. Their safety is determined after confirming that their effectiveness is supported by satisfactory scientific evidence. As for the de novo pathway, it relates to novel medical devices for which there are no legal counterparts on the market. General controls offer a reasonable guarantee of their safety and effectiveness.
Although the system is not perfect – we found a number of approved solutions where there was no mention of an algorithm in the documentation, but FDA seems to be the best we can go with.
5. Virtual wards from the UK
Virtual wards will soon become important in many care areas, this model offers an efficient (both in medical and in financial terms) solution for a great number of health conditions. The United Kingdom's NHS reacted quickly and started piloting the concept years ago.
What is the secret?
NHS reacted fast
Pilot projects were launched in several clinical segments
What are virtual wards? "A virtual ward is a solution that supports patients who would otherwise be in hospital to get acute care, remote monitoring and treatment in their own homes, with the use of digital, remote monitoring health tools relaying real-time data to the hospital. The main difference between 'full-grown' virtual wards and the earlier existing solutions is the available data. Virtual wards provide the same data in real-time as would be available if the patient was hospitalised."
This is two-way communication. The patient has the option to immediately contact the health team, and real-time data allows healthcare providers to immediately intervene if measurements suggest deterioration in the patient's condition.
The idea of allowing some patients to heal in the comfort of their homes is nothing new. There is a vast amount of data proving that people with certain symptoms heal better at home. They are not at risk of hospital infections. Not under the strain of missing the family. And so on, the benefits are numerous.
Virtual wards are the answer to the long-known wisdom that many patients don't actually need hospitalisation. They only need monitoring.
6. Health IT infrastructure from South Korea
The digitisation of hospital systems is yet another result the pandemic's challenges have brought upon us. The urgency for extra bandwidth needed for remote care solutions, hospital IoT deployments, telehealth consultations or the operations of robots and robotic systems made it clear: hospitals need better access to networks, and 5G is an obvious solution. And with building on 5G comes a vast array of 21st-century solutions: large-scale deployment of robots, AI-enabled diagnostics and services, real-time, HD video analysis of surgeries and so on. 
And of course, no one does it better in healthcare than South Korea.
What is the secret?
We have to admit that this densely populated country might have an advantage. It is more efficient to build such robust networks for a large population living in a relatively small area than building the same in a country with a low population density.
7. Best digital health application process from Germany
Digital health applications and solutions are increasingly becoming part of our healthcare experience. While these apps are available in a large number of medical specialties, channelling them into state-run healthcare systems to harness the benefits on population-wide scales is challenging.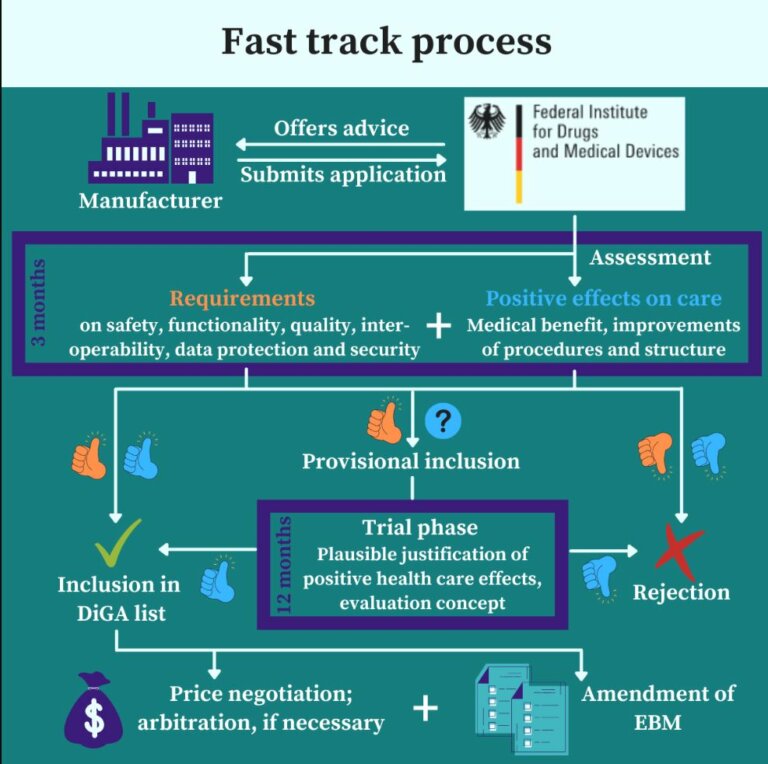 Germany's DiGA system tackles this issue with a model that is worth a detailed analysis. DiGA stands for Digitale Gesundheitsanwendung or Digital Health Applications in English.
What is the secret?
Clear and very transparent guidelines on how to obtain DiGA certification
Preliminary (valid for 12 months) approval, that allows smaller, less wealthy companies to carry out clinical trials and collect solid evidence
A central reimbursement model, in which the prices are negotiated with the umbrella organisation of German statutory health insurers, so companies don't need to deal with each of them separately
Easy to use central registry useful for patients and doctors alike
8. Patient inclusion and longevity-oriented thinking from Estonia
Imagine a country where citizens will have their genetic profiles integrated into the digital health system with individual risk scores and pharmacogenomic information, so when they go to the doctor, they will get fully personalised, genetic risk-based diagnosis, medication, and preventive measures. That's where healthcare in Estonia will arrive soon. They started to build their digital health system 20 years ago, and within the next years, the Baltic country will start to reap the benefits of a transparent, blockchain-based, digital health system hooked on genetic data. 
What is the secret?
Estonia focused on finding two emerging mega trends in the early 1990s (IT and genetics) and worked tirelessly to excel in these niches
In the last 20 years, Estonian healthcare (as well as the country's public administration) went through an astronomical transformation. Many factors had to be put in place to offer a trustworthy, safe, and efficient healthcare system for citizens, pointing in the direction of personalised, preventive medicine based on DNA analyses – and approximately twenty years after the start, the process is still in the making. In 2008, they launched the national EHR, two years later added digital prescriptions, another two years went by, and they included e-consultations. In 2015, e-ambulances were introduced, and a drug interaction decision support system was launched in 2017
The Estonian e-Health vision 2025 sums up the efforts in a rather short, but powerful four-word sentence: "better information – more health". That means the Baltic country is striving to collect high-quality data in a secure and transparent way about the past, present and genetically predictable future health state of patients in a highly personalised way by staying in close proximity.
The post These 8 Countries Could Put Together The World's Most Advanced Healthcare System appeared first on The Medical Futurist.