The field of medical AI is buzzing. More and more companies set the purpose to disrupt healthcare with the help of artificial intelligence. Given how fast these companies come and go, it can prove to be hard to stay up-to-date with the most promising ones. Here, I collected the biggest names currently on the market ranging from start-ups to tech giants to keep an eye on in the future.
To further help you keep up with what AI brings to medicine, The Medical Futurist team made an easy-to-digest e-book just about that. I highly encourage you to read it and would love to hear about your thoughts!
Artificial Intelligence has to and will redesign healthcare
No one doubts that artificial intelligence has unimaginable potential. Within the next couple of years, it will revolutionise every area of our life, including medicine. However, many have their fears and doubts about AI taking over the world, Stephen Hawking even said that the development of full artificial intelligence could spell the end of the human race. Nevertheless, I am fully convinced that if humanity prepares appropriately for the AI age, artificial intelligence will prove to be the next successful area of cooperation between humans and machines.
Concerning healthcare, artificial intelligence will redesign it completely – and for the better. AI could help medical professionals in designing treatment plans and finding the best-suited methods for every patient. It might assist repetitive, monotonous jobs, so physicians and nurses can concentrate on their actual jobs instead of e.g. fighting with the tread wheel of bureaucracy.
In fact, our AI-book guide aims to prepare healthcare and medical professionals for the era of human-machine collaboration and is a great way to know more about how such a collaboration can be beneficial to medicine.
Mining medical records is the most obvious application of AI in medicine. Collecting, storing, normalising, tracing its lineage – it is the first step in revolutionising existing healthcare systems.
Look at this example which shows that AI is awfully needed
Just look at this picture taken in a Hungarian hospital in the capital city, Budapest. The personnel manages patients' appointments MANUALLY on a giant blackboard, and I do not even want to comment on the index-card holder. The whole scene is rather from an early 20th-century hospital than a healthcare institution way in the second decade of the 21st century.
It is obvious that such systems are unsustainable and artificial intelligence could offer help. And some entrepreneurs already realized the huge transformative as well as financial potential of medical AI. Researcher Frost & Sullivan said artificial intelligence systems will generate $6.7 billion in global revenue from healthcare by 2021, compared with $811 million in 2015. The market is truly booming, hence start-ups grow out of nowhere like mushrooms. So, let me introduce you to companies which are on the best way to democratise healthcare through artificial intelligence. It is truly worth keeping an eye on them since they are great partners in building more transparent and effective healthcare.
Mining Medical Records within minutes
In the age of Big Data, there is no question about how valuable patient data is. When such tech giants as Google or IBM appear in the field of patient data mining, everyone knows it is something worth doing.
In 2019 DeepMind's health team merged with Google Health so as to "build products that support care teams and improve patient outcomes." Google Health is tapping into AI's potential to help in breast cancer screening, predicting patient outcomes, averting blindness, and more.
These aren't just empty words, Google has walked its talk. Together with the company's DeepMind branch, Google Health has come up with an AI-based solution for identifying breast cancer. What's more, the algorithm even outperformed all human radiologists it was pitted against, on average by 11.5%!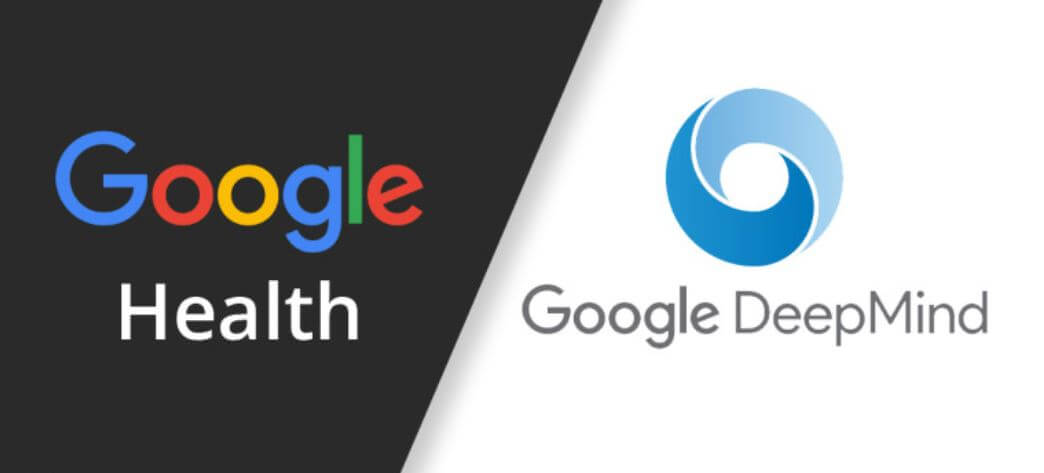 Also, Verily, the life sciences arm of Google's umbrella corporation, Alphabet, is working on its data-collecting initiative, Project Baseline. It aims to use some of the same algorithms that power Google's famous search button in order to analyse what makes people healthy.
Medical documentation specialist Augmedix developed solutions to extract data from natural physician-patient conversations and convert it to medical notes in real-time, which are automatically transferred to EHR systems of healthcare providers. Addressing the administrative burdens of healthcare workers and automating these tasks will become a major time saver in the sector, and potentially also a direction which can help reduce burnout symptoms of medical personnel.
Their latest announcement was the launch of "Chart prep", the new service features technology that prepares a patient note structure and content for the physician based on the unique visit type and the patient's previous medical records. Alleviating this manual task ahead of time, physicians simply review the information prior to seeing the patient, the collected info includes patient demographics, medication changes, up-to-date medical history, imaging, labs and diagnostic results, immunization history and past medical, family, and social history.
The start-up deep in the heart of Silicon Valley focuses on optimising patient and financial outcomes through predictive analytics. CloudMedX utilizes Natural Language Processing (NLP) and deep learning to obtain existing data from electronic medical records and outputs clinical insights for health care professionals so as to improve patient outcomes. CloudMedx's AI Assistant subsequently aids doctors and patients make data-driven decisions. 
The company's solution has already been applied in several areas of medicine like congestive heart failure, liver cancer, ALS, renal failure, and orthopaedic surgery, with promising results. In fact, CloudMedx won the "Best Overall Connected Healthcare Solution" at the 2019 GITEX Award. I hope that many others will follow their lead in exempting medical professionals from administrative and data-related burdens.
Based in the UK, Babylon Health has already rolled out its patient-centered remote consultation service to Rwanda and some British cities, the USA and the Middle East. The free smartphone app's dynamic AI begins to ask users about their complaints and subsequently match them to a relevant physician, 24/7, via video or voice call for further medical assistance. Through deep learning, Babylon's AI system can also provide users with personalised insights to stay healthy and better understand their health.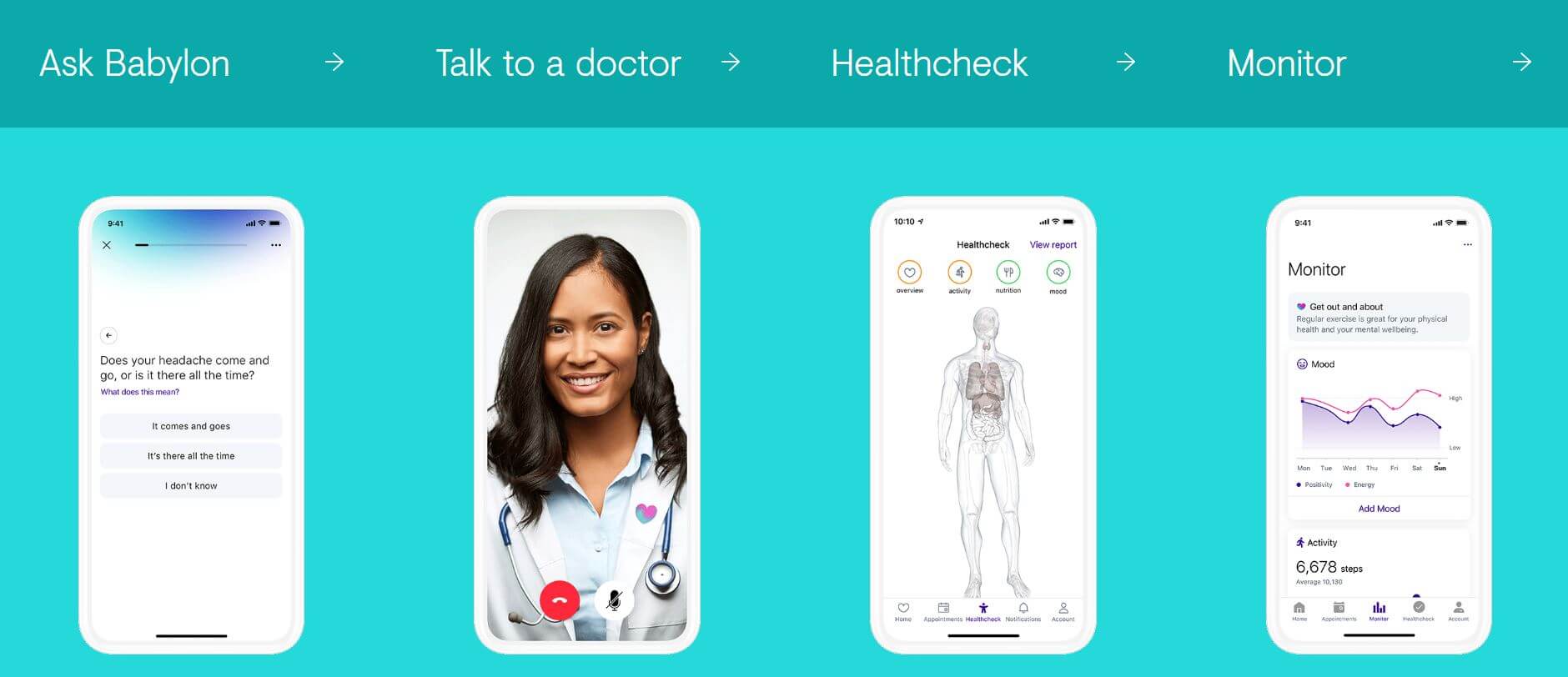 Babylon Health saw a financially sound year in 2022. People used its app for a total of 13 million AI & doctor consultations so far. There was some not-so-positive news last year as well: Babylon Health and the NHS have terminated their 10-year contracts in the UK due to "challenging global and macroeconomic conditions". Apparently, the cooperation was "not lucrative enough" to go on with it.
Corti is an AI-powered "co-pilot" for emergency medicine staffers. By listening in on patient interviews, analysing the caller's voice and background noises, and taking insights from historical data and artificial neural networks, the AI is able to understand the context and patterns in critical conversations. In this way, it can assist emergency medical professionals by alerting them if, say it identifies a heart attack in progress and making life-saving decisions.
Dispatchers in Denmark, where the company is based, can identify a heart attack from descriptions over the phone about 73% of the time. On the other hand, a study with Corti showed that the AI performed better than emergency medical dispatchers in identifying cardiac arrest in emergency phone calls.
Disrupting Medical Imaging
Medical imaging encompasses every technique and method with which it becomes possible to represent the inner secrets of the body. X-ray, ECG, MRI, ultrasound, tomography – to name a few of the most commonly known ones. And what comes to your mind when you think about these procedures? Usually a huge, unfriendly room in a hospital with an even bigger, expensive-looking and complicated machine.
And if you think that, then you are awfully right. Also, two-thirds of the world lacks access to medical imaging exactly because current technologies are unwieldy, expensive, and require extensive training. This is exactly what the following innovative AI start-ups want to change.
Jonathan Rothberg established his start-up, Butterfly Network in 2011 with the goal to create a new handheld medical imaging device that can make both MRI and ultrasounds significantly cheaper and more efficient. His ultimate aim is to automate much of the medical imaging process.
The company's Butterfly iQ is the first step towards this goal. This portable handheld device uses an Ultrasound-on-Chip technology to replace the traditional transducer system with a single silicon chip, emulating any type of transducer (linear, curved or phased) allowing for whole-body imaging from a single probe. By combining semiconductors, artificial intelligence, and cloud technology in a pocketable form, the Butterfly iQ is making remote medical imaging a reality, a boon to remote communities, some of which are benefiting from such crucial medical information for the first time.
Enlitic uses the power of deep learning technologies, specifically its prowess at certain forms of image recognition to harvest the data stemming from radiology images and applying it in unique medical cases. Deep learning actually means the process by which a computer takes in data and then, based on its extensive knowledge drawn from analyzing other data, interprets that information.
The start-up's technology can interpret a medical image in milliseconds —up to 10,000 times faster than the average radiologist. It integrates seamlessly into any existing health system so as to optimize patient outcomes while empowering physicians. A study even showed that with Enlitic's help, radiologists read cases 21% faster. In another study, the algorithm had even able to detect malignant lung nodules up to 18 months before a biopsy was even ordered.
The company has signed a deal with GE Healthcare in August 2022, under the agreement GE will embed Enlitic's Curie platform into GE's PACS software to improve radiologist workflow and efficiency. The collaboration is designed to improve data standardization and improve efficiency by eliminating the need for radiologists to spend time on activities like correcting broken hanging protocols.
Where the cloud, artificial intelligence, and medical imaging meet, is the point of work for Arterys. The pioneering start-up promised to "open medical imaging to the power of the cloud".
Its FDA-cleared, deep learning AI-powered platform allows for faster radiology image examination and reduces missed detections by up to 70% while automating mundane tasks and freeing up physicians' time, which they can invest in quality patient care. Moreover, being an always-connected, 24/7 solution, Arterys allows users to access important patient data anywhere in the world, at any time.
Arterys was acquired by precision medicine AI powerhouse Tempus Labs in October 2022, marking perhaps the biggest acquisition in the history of imaging AI, and highlighting the segment's continued shift beyond traditional radiology use cases.
Formerly known as Bay Labs, Caption Health is a company that develops AI software aimed at empowering medical professionals with access to and interpretation of high-quality medical imaging. Their product can in turn help improve patient outcomes and reduce costs.
In 2016, the company took its technology to Africa to help identify symptoms of Rheumatic Heart Disease (RHD) in Kenyan school children. The algorithm analysed data derived from ultrasound to take a good educated guess as to whether it sees something consistent with RHD. During the trip, medical professionals scanned 1200 children in four days and were able to spot 48 children with RHD or congenital heart disease. Moreover, Caption Health said that the algorithm performed what usually takes a sonographer a few years of training in a few minutes!
2022 was a strong year for the company: they launched the first in-home ultrasound service for heart health in the US, and following the FDA 510(k) clearance, they also obtained a CE mark for their AI technology platform to detect cardiac disease.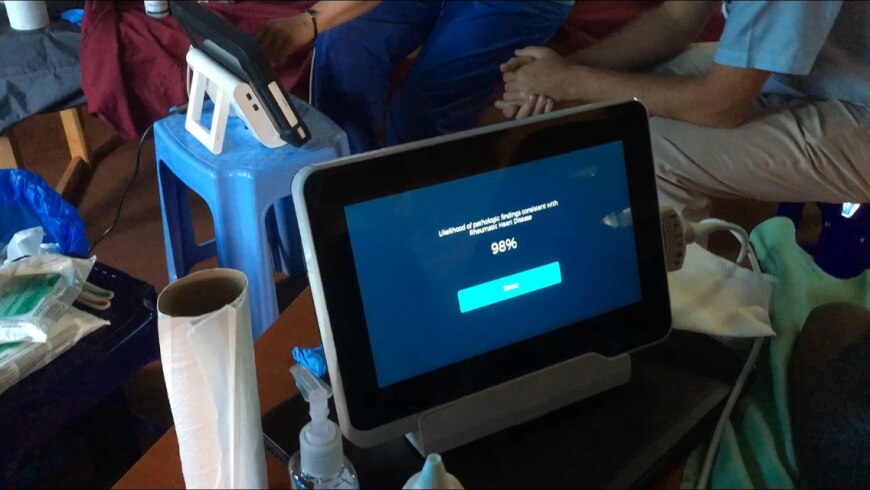 Using their red dot algorithm based on deep learning models, Behold.ai's software is able to classify a CXR and localise its findings as heatmaps. Their AI was trained from over 30,000 images, all of which had been reviewed by experienced UK-certified Consultant Radiologists. This resulted in an algorithm with over 90% accuracy that is able to detect abnormalities within seconds.
The company, headquartered in London, is already collaborating with the NHS and has deployed its AI solution in several NHS Trusts. Behold.ai has even achieved the gold standard of quality certification for 'Instant Triage' Solution.
In June 2022 the company entered a partnership with NHS Somerset to test Behold's AI algorithm in diagnosing lung cancers.
Lithuanian Oxipit develops automation technologies for medical imaging. The company's ChestEye is an AI double-reading medical imaging tool. The product analyses final radiologist reports and corresponding medical images. Operating in near-real-time, Oxipit Quality helps to identify reporting errors and improve patient outcomes.
Oxipit and Astra Zeneca launched a joint pilot study in 2021, the software was deployed in two major primary care centers in Lithuania. With nearly 50,000 chest X-ray images analysed, ChestEye Quality identified 190 clinically relevant missed findings, 82 of which were potentially missed subtle pulmonary nodules, potentially identifying additional early instances of lung cancer.
Clarius develops portable wireless HD ultrasound machines that come with cloud storage and an AI-powered app, which can automatically detect anatomy at the macro level, allowing physicians to scan without having to adjust the system, the algorithm is also used to automatically optimize image quality.
Following the FDA clearance issued in 2021, the company received CE Mark Certifications and Health Canada approvals for their devices in 2022.
Clarius seems to dream bigger than "just" manufacturing these devices, in October 2022 they launched a platform that enables ultrasound innovators to bring their AI-powered software solutions to market faster by integrating with the Clarius ecosystem.
Speeding up biological data management and drug development from years to weeks
Developing pharmaceuticals through clinical trials sometimes takes more than a decade and costs billions of dollars. Speeding up the process of drug development and making it more cost-effective through AI technologies would have an enormous effect on today's healthcare.
This San Francisco-based company aims to reduce the costs of medicine development by using supercomputers to predict in advance from a database of molecular structures which potential medicines will work and which won't. 
Their technology, called AtomNet, uses convolutional neural networks, an AI technology similar to the one that enables self-driving cars or that allows you to talk to your phone. By taking cues from millions of experimental affinity measurements and thousands of protein structures, AtomNet is able to predict the binding of small molecules to proteins and thereby identify an effective and safe drug candidate.
Atomwise signed a $1.2 billion research collaboration with Sanofi in August 2022, it centers on leveraging the AtomNet platform to research small molecules aimed at up to five drug targets. The platform incorporates deep learning for structure-based drug design, enabling the rapid, AI-powered search of Atomwise's proprietary library of more than 3 trillion synthesizable compounds.
This drug discovery company was founded in 2013 with the purpose to build a proprietary drug discovery platform that combines the best elements of high-throughput biology and automation with the latest advances in AI to date, they've imaged tens of billions of human cells and generated over 19 petabytes of biological data to feed their AI. 
By pairing computer vision with classic machine learning and neural networks, the company is able to conduct about 2 million experiments every week. In this way, Recursion's algorithm can reveal new drug candidates, mechanisms of action, and potential toxicity, which can lead to novel treatments for patients.
Founded in 2015, the ambitious Chinese company iCarbonX wants to "digitise human life". It basically wants to construct a "digital you" containing biological samples such as saliva, proteins, and DNA; bolstered by environmental measurements such as air quality; and lifestyle factors such as workout regimes and diet. 
By taking insights from data from new biological measures and people's experiential data, iCarbonX is using its AI to search the data for new signals about health, disease, and ageing. From these insights, the company intends to offer a range of personalised products and services to help people reach their health targets.
Toronto-based Deep Genomics created an AI platform that works in concert with its experts to discover and develop genetic medicines, including novel therapeutic solutions for conditions with high unmet needs. For instance, the company announced in September 2019 that it discovered a novel treatment target and corresponding drug candidate for Wilson's disease. Deep Genomics is also working on its Project Saturn, which it describes as a "toolkit for controlling cell biology along crucial pathways", which will allow for faster discovery of therapies.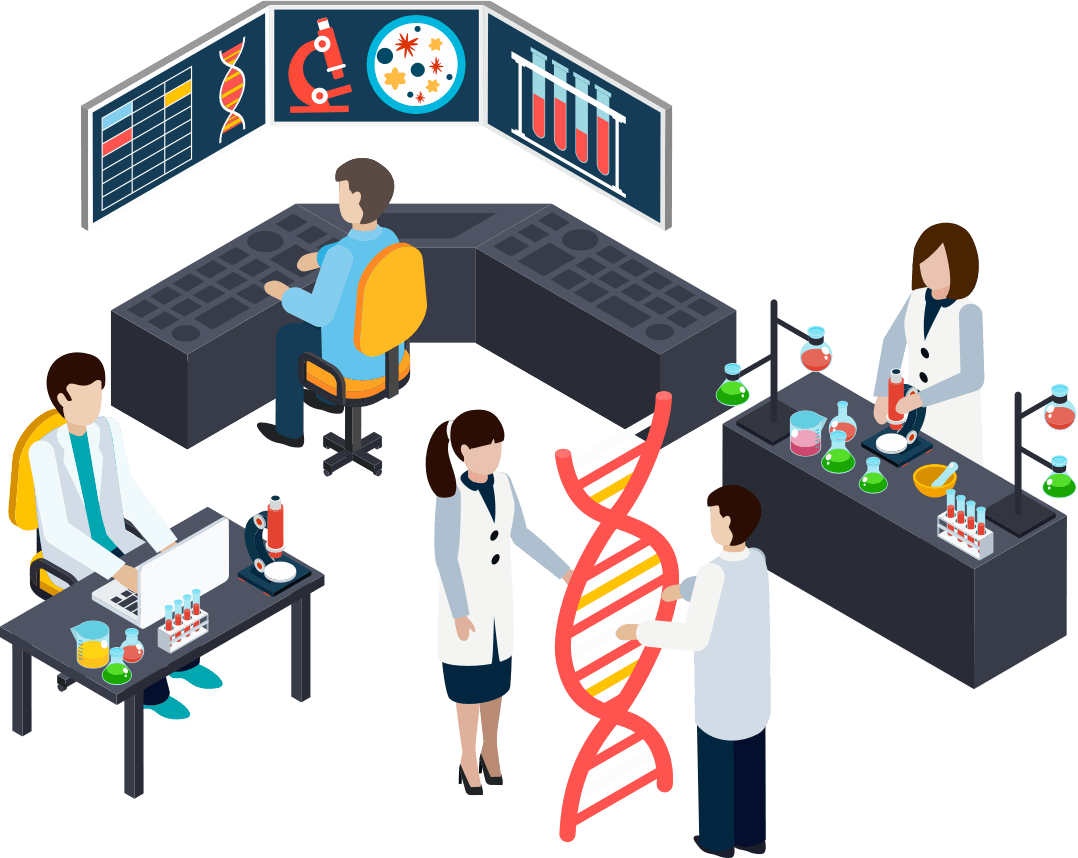 Originating in Hungary, Turbine developed its proprietary Simulated Cell technology, a virtual high-definition tumour cell based on manually curated literature that can be customised into a desired model. Millions of simulated experiments, guided by an AI, can then be run on this model to analyze and better understand the underlying pathomechanism and design the best therapy.
The technology is already used in collaborations with Bayer, the University of Cambridge, and top Hungarian research groups to find new cancer cures, speed up the time to market, and save the lives of patients suffering from currently incurable forms of the lethal disease.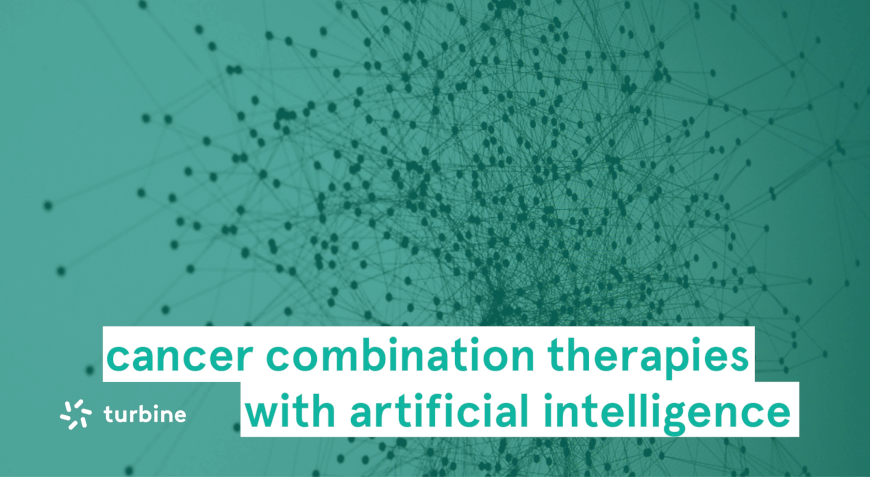 AllStripes' (formerly RDMD) mission is to make patients' medical information, especially when it comes to rare diseases, as accessible, accurate, and usable as possible for medical researchers, while giving patients control of their own data. All of these measures are made to allow patients to contribute to the research of treatments for rare diseases. By analyzing the data shared, RDMD's research platform can generate crucial data insights that can aid to accelerate rare disease research and drug development.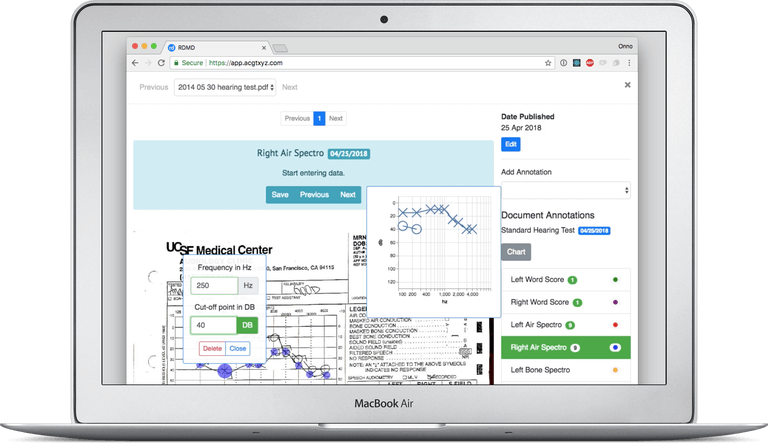 Health Management
Ada is a health company based in Berlin that operates an end-user self-assessment app. The app started out as a platform as a service for doctors and was adapted in 2016 to focus on the bits patients could understand. The app has almost 13 million users. It takes reported symptoms, matches them with symptoms of patients of similar age and gender, and reports the statistical likelihood that the patient has a certain condition. It is currently available in English, German, Spanish, Portuguese, Swahili, Romanian, and French.
The app became available in Epic App Orchard in May 2022, and received a Class IIa medical device certification in Europe in the fall of 2022.
MySense is a wellbeing analytics platform. It collects data related to the activities of daily living through passive IoT sensors. Its AI algorithm learns an individual's behaviour patterns to establish what 'being well' looks like for that person. The platform allows patients to monitor their health at home and identify declines in health in real time.
An interesting cooperation is between the company and the South Warwickshire NHS Foundation Trust, which aims to help people remain in their homes and retain their independence for longer, and the use of their technology seems to dramatically reduce the number of hospital visits.
Diabeloop is a key player in therapeutic AI applied to insulin delivery. Its solution for automated type 1 diabetes treatment calculates the insulin doses patients need throughout the day and administers them in an automated and personalised manner.
The company announced the results of a 12-month data-collecting study in 2022, the cohort included 4,162 patients across Germany, Italy, Spain, The Netherlands and Switzerland. The study demonstrated time-in-range improvements of 17.6% over one year of real-world use. Patients spent less than 20 minutes per day in hypoglycemia (low blood sugar).
Skinvision developed an app to remotely evaluate suspicious skin lesions. Users take a picture of the lesion in question, upload it to the app, fill out a short questionnaire and will receive a preliminary evaluation prepared by the AI algorithm in a few minutes. This preliminary diagnosis will be followed by a final evaluation conducted by a human dermatologist in 1-2 days.
Woebot is an AI-powered mental health app that uses cognitive behavioral therapy tools to support teen and adult users in finding their inner peace. The chat-algorithm obviously doesn't substitute a trained psychologist or psychiatrist, however, many users reported that the app helped them take the first step. They often reflected on the positive aspects of using their phones as mental help: you don't have to leave your apartment and there is no stigma attached to the "sessions".
A study found that the app was able to effectively engage people with depression in empathetic conversations and assist in the treatment of their symptoms.
If you know about other companies disrupting healthcare through artificial intelligence, please let us know!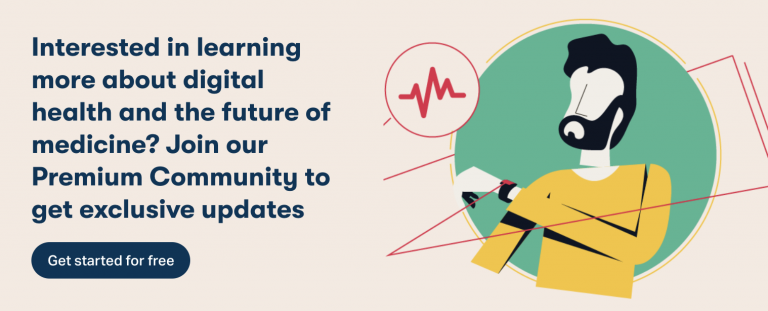 The post Top Artificial Intelligence Companies In Healthcare To Keep An Eye On appeared first on The Medical Futurist.