Tech (and retail) giants have shown increasing interest in the healthcare sector in the past decade, and we've been discussing their advancement for years. They might have chosen somewhat different tactics, like Google investing heavily in AI with DeepMind and Verily, or Microsoft focusing on the EMR and cloud solutions, one way or another, billions of tech dollars have flown into these ventures. 2022, however, presented a new chapter: a number of major non-healthcare players decided to step in as primary care providers.
It started with Amazon acquiring primary care provider One Medical for $3.9 billion reported in late July – apparently rendering the Amazon Care model obsolete. And the company was set to go on further and eyed another large target, Signify Health – although was eventually bid out by CVS, which announced to buy Signify Health for $8 billion, beating Amazon in the process.
The news was still hot when ByteDance, the parent company of TikTok coughed up some $1.5 billion for China's largest private hospital chain, Amcare Healthcare. And apart from these mega-deals, dozens of smaller acquisitions happened and collaborations were launched.
There is a monumental shift underway, but where will it lead us? Could tech giants just take over healthcare? The TL;DR answer is no, for sure not entirely. But they will profoundly change the landscape.
Here is a list of relevant factors you need to consider when thinking about what will happen in the next decade.
What trends allow these companies to enter healthcare?
Healthcare is becoming increasingly tech-focused. All stakeholders from medical professionals to patients use an ever-growing number of devices and solutions which rely on technologies that are delivered by major tech companies. This offers an obvious entry point for the tech firms to a formerly uncharted, albeit lucrative sector.
What forces are against the trend?
Healthcare is the highest-stake game of all: mistakes directly cost lives. Thus, sector regulations are the strictest possible in all facets of the spectrum. This is an environment tech companies are not used to. The rigour of the regulatory framework allows for significantly tighter room to manoeuvre around business issues. And testing of products and solutions is also not comparable to any other sector: you can't play with people's lives.
Thus, many subsegments have administrative entry barriers that require special licenses. For example, you can't just start a clinical trial on humans if you have a good idea. Medicine has many such barriers, which limit what "outsiders" can do.
Can they provide primary care?
Apparently, this is a target. Several factors are in their favour:
They have proven their abilities to develop technologies serving healthcare purposes
They are able to adapt to the regulatory framework, especially if they cooperate with existing major healthcare players
Customers are likely to vote confidence for their healthcare solutions as these companies have already earned their trust in other segments
Diagnostics seems to be one major low-hanging fruit: it is a bottleneck in all healthcare systems, large parts of populations have no- or limited access to quality services, there is a lot of money to be made by utilising this, and it is a segment that can be easiest served by high-tech solutions
How will the healthcare offering of tech giants merge with standard medicine?
It is possible that there will be a shift in providing diagnostics and therapies – tech companies taking a big chunk of the former – often with AI solutions, and traditional healthcare doing the latter. This seems a viable partnership: if artificial intelligence (arriving in the forms of apps, wearables, digital health devices, ambient intelligence, etc) can take a significant part in prevention, screening and preliminary diagnostics, it would free up capacities in standard healthcare.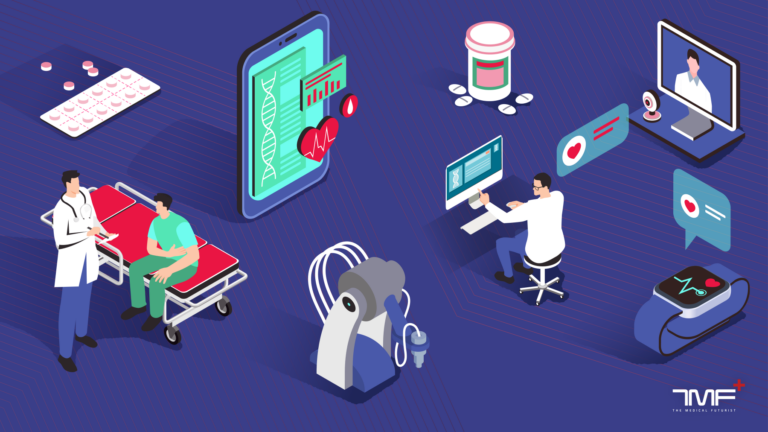 As of now, I think it is a safe bet to say that tech companies are not interested in delivering therapies and in-hospital care on a population-wide scale – although they are for sure interested in delivering devices and software solutions to support the latter.
Will the general public have better access to healthcare?
All in all, yes. Tech companies entering the sector will lower the threshold for accessible diagnostics. While many can't afford to spend $150-200 on a dermatologist consultation to check a new birthmark, they may spend a few dollars in an app to have it checked – and thus have a better chance to catch a malignant lesion in time.
These digital health offerings at the moment may be more often used by those who don't necessarily need them, but such services will eventually become mainstream. Just as running water or electricity in your house were toys of the privileged first, they became available for pretty much everyone.
Will healthcare look at tech companies as partners or as competitors?
This is a major question, and I very much hope we'll go the partnership route – for the best interest of all of us.
Regulating tech companies providing healthcare services will be a tricky business, lots of eyes are on FDA and the like. We are entering a new era with adaptive (constantly changing) algorithms, and there are more questions than answers regarding responsibilities and how you can define rules for something that will not be the same by tomorrow.
The post Can Tech Giants Take Over Healthcare? appeared first on The Medical Futurist.