Will digital assistants prescribe medication, will smart algorithms diagnose patients with malignant lesions based on CT scans while robot surgeons do the dirty work in the OR 20 years from now, ousting doctors completely? Highly unlikely, but there are many fears around the advancement of digital health technology up to the point of medical professionals becoming superfluous. While we believe that fears about technology, especially AI, replacing physicians are unfounded, we should acknowledge the impact of fast-paced innovation happening in healthcare in various medical specialties. That's what our infographic illustrates. Check it out!
Will technologies really replace doctors?
Hype and fears around technologies, especially artificial intelligence and smart robots taking over jobs are running high in every industry – and the medical world is no exception. A renowned voice in tech, Kai-Fu Lee, founder of venture capital firm Sinovation Ventures told CNBC that AI will be bigger than all other tech revolutions, and robots are likely to replace 50 percent of all jobs in the next decade. When looking at healthcare and medical specialties, radiology seems to be the prime target: in late 2016, Prof Geoffrey Hinton, the godfather of neural networks, said that it's "quite obvious that we should stop training radiologists" as image perception algorithms are very soon going to be demonstrably better than humans. Radiologists are, he said, "the coyote already over the edge of the cliff who hasn't yet looked down."
Vinod Khosla, Silicon Valley investor and Sun Microsystems founder often stresses his extreme opinions about technology replacing radiologists, but at one point he even said that "any radiologist who plans to practice in 10 years will be killing patients every day," because machine-powered solutions will have advanced to such a point that they'll be far more effective than professional human practitioners. He also ruffled many feathers by declaring (in 2012) that in 10-15 years 80% of doctors will be replaced by AI. Well, by now we can announce that he was not right in this one.
Cooperation instead of substitution
Although many signs point towards the fact that AI will completely move the world of medicine, and many other technologies will also have a transformative effect on the industry, medical outcomes are much better when it comes to human-machine cooperative teams than in the case of humans or machines solving health issues alone. For example, a study showed that the combination of a deep learning system's predictions with the human pathologist's diagnoses for identifying metastatic breast cancer resulted in an 85 percent reduction in human error rate.
However, for cooperating with technologies, first, we should notice how they are reshaping individual medical specialties, then learn what skill sets need to be readjusted, and how to work with technologies as a team. That's how medical professionals could prepare for the changes coming in the next decade and make sure that they stay at the top of their professions.
We strongly believe that while technologies won't replace physicians, those who don't use technologies will get substituted with professionals who apply technologies in their daily routines.
Thus, in order to help everyone get a clearer picture of how the latest innovations in healthcare impact individual medical specialties, we created an infographic.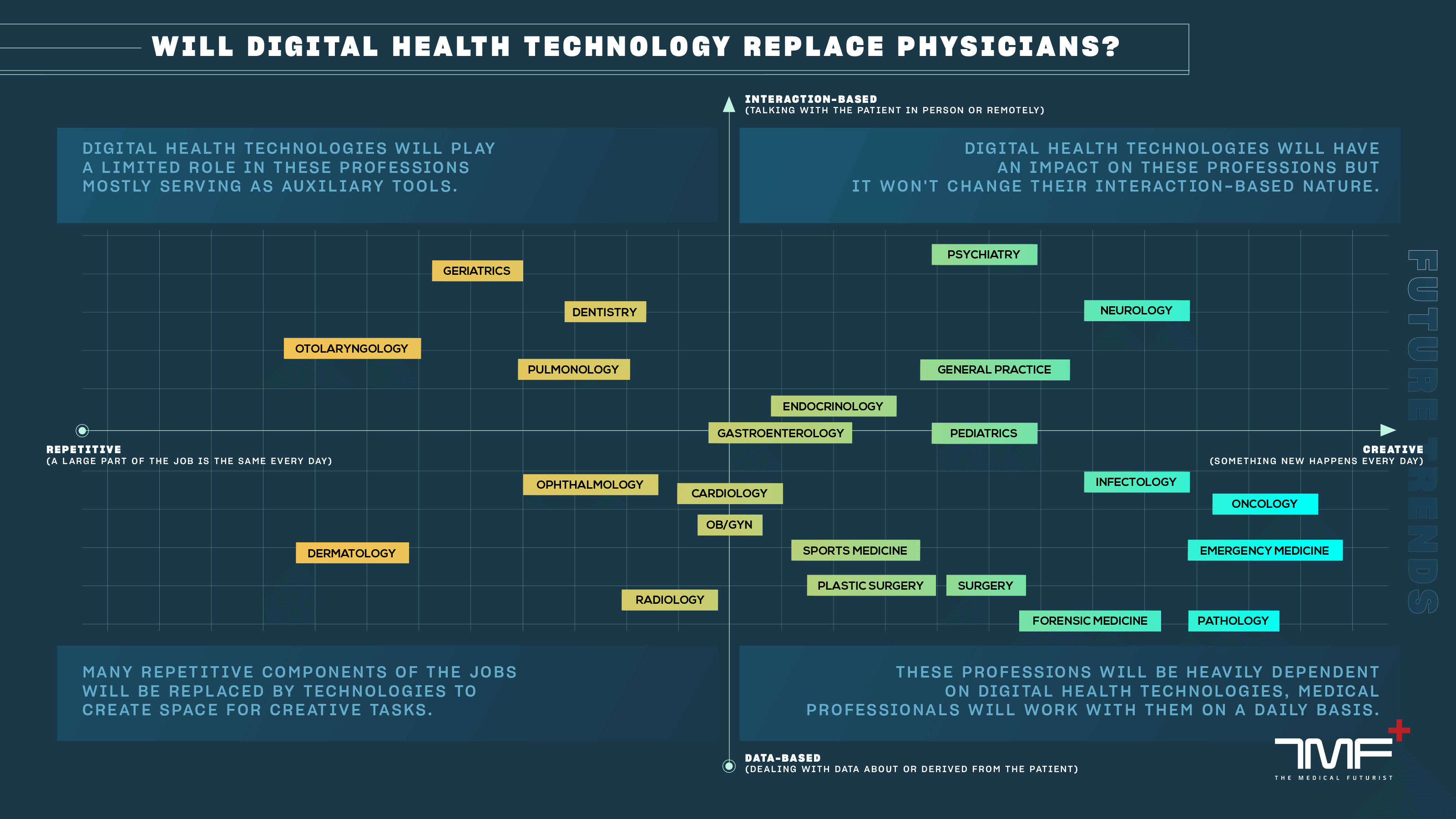 From
the repetitive towards the creative
At first, we tried to conceptualize what aspects and
tasks of the medical job are usually affected by the latest innovations, such
as robotics, artificial intelligence, virtual reality, or telemedicine. We have
to point out that there is no objective scale to accurately measure these
changes, and our conceptualization is based on observation rather than
quantitative weighing.
Still, we found that tasks requiring the collection, the analysis, and even the interpretation of information, such as diagnostics in general or radiology/pathology in particular, will speed up due to the use of technologies, freeing up time for other, less data-based duties.
These assignments could mean more interaction-based activities – at the other extreme of our scale –, where the human factor plays a much more important role than machines ever could. Empathy, compassion, creativity and problem-solving skills all bear a part in interaction-based tasks, such as doctors visiting patients, nurses taking care of children, or any other situation in a medical setting requiring the skills, attention, and empathy of the medical staff.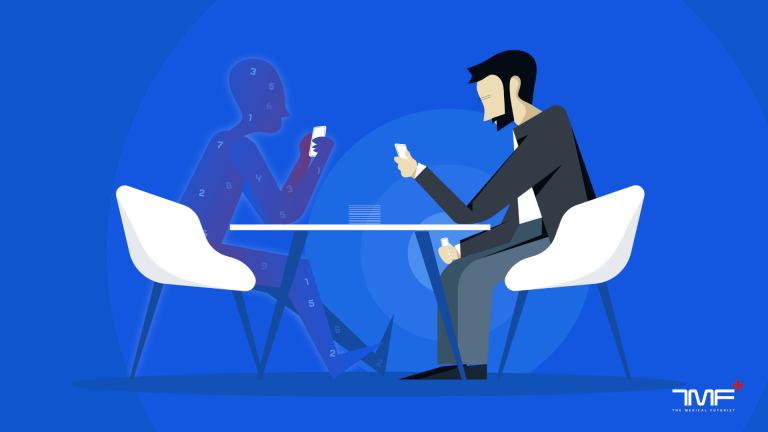 Nevertheless, we believe that after careful consideration of the impact of technologies on these specialties, not only the data- or interaction-based dichotomy could be distilled, but also a move towards more creativity instead of repetitive, monotonous tasks. For example, in the future, artificial intelligence could free up time for doctors chained to administrative tasks, or various robots, such as the TUG robot, could complete simple assignments for nurses, saving time for patients. Thus, we expect specialties placed on the infographic to heavily "move" towards the creativity endpoint in the decades to come.
What will the future bring for physicians?
As a consequence, looking at the role and tasks of physicians in general, we expect the era of the e-physician to come. These empowered physicians will be the ones who use digital technologies in their practice with ease, are enabled by regulations and guidelines, empowered by technologies and experts in hunting down the most reliable and trustworthy digital health sources and innovations. They can also be described as "engaged," when understanding the feelings and points of view of their patients, giving relevant feedback, and involving them throughout the whole healing process.
We believe that the skills and approaches that characterise this era of e-physicians, such as face-to-face communication skills, digital literacy, interdisciplinarity, knowing where to find information, and translating large amounts of data into insights for patients, among others, should always have been at the core of practising medicine. But as the saying goes, better later than never.
The post The Impact Of Digital Health Technologies On The Future Of Medical Specialties In One Infographic appeared first on The Medical Futurist.