I have been analysing technological trends in healthcare for over 10 years. I have seen currents come and go, and I was making forecasts about them, too – and even shared the way I do it, how you can get your own crystal ball and learn forecasting.
Why do I find it important? Because by analysing the possible outcomes, we learn how to avoid the hype that leads to headlines but no results (remember Theranos?), as it can result in misleading information about the technology – ultimately leading to mistrust by users. On the other hand, certain technologies and companies need to be highlighted as they might bring the transformation of healthcare a step closer to reality.
We first published the Hype cycle at the end of 2021. However, things happen fast in the world of digital health, thus it was time to roll up our sleeves again and refresh the hype cycle, making sure that everything takes their just place on the curve. There have been some changes and updates, so here we are with the 2023 edition.
A hype cycle that shows 50 of the most promising digital health technologies the way we, at The Medical Futurist, see them today. In our ebook, you will find a detailed introduction to how to interpret trends and novelties, an explanation of each of these trends and why we placed them in their given categories.
---
What is a hype cycle?
The term and the concept come from the American research and consultancy firm Gartner. Their infographic shows at which level of maturity various technologies are and how these are used and perceived. They also show how these technologies are potentially relevant to solving real business problems and exploiting new opportunities. Their excellent concept can also be highly informative regarding medical technologies.
Therefore, The Medical Futurist team has been focusing on the most important digital health technologies and their real impact on the various levels of healthcare – from patients to physicians, from institutions to regulators.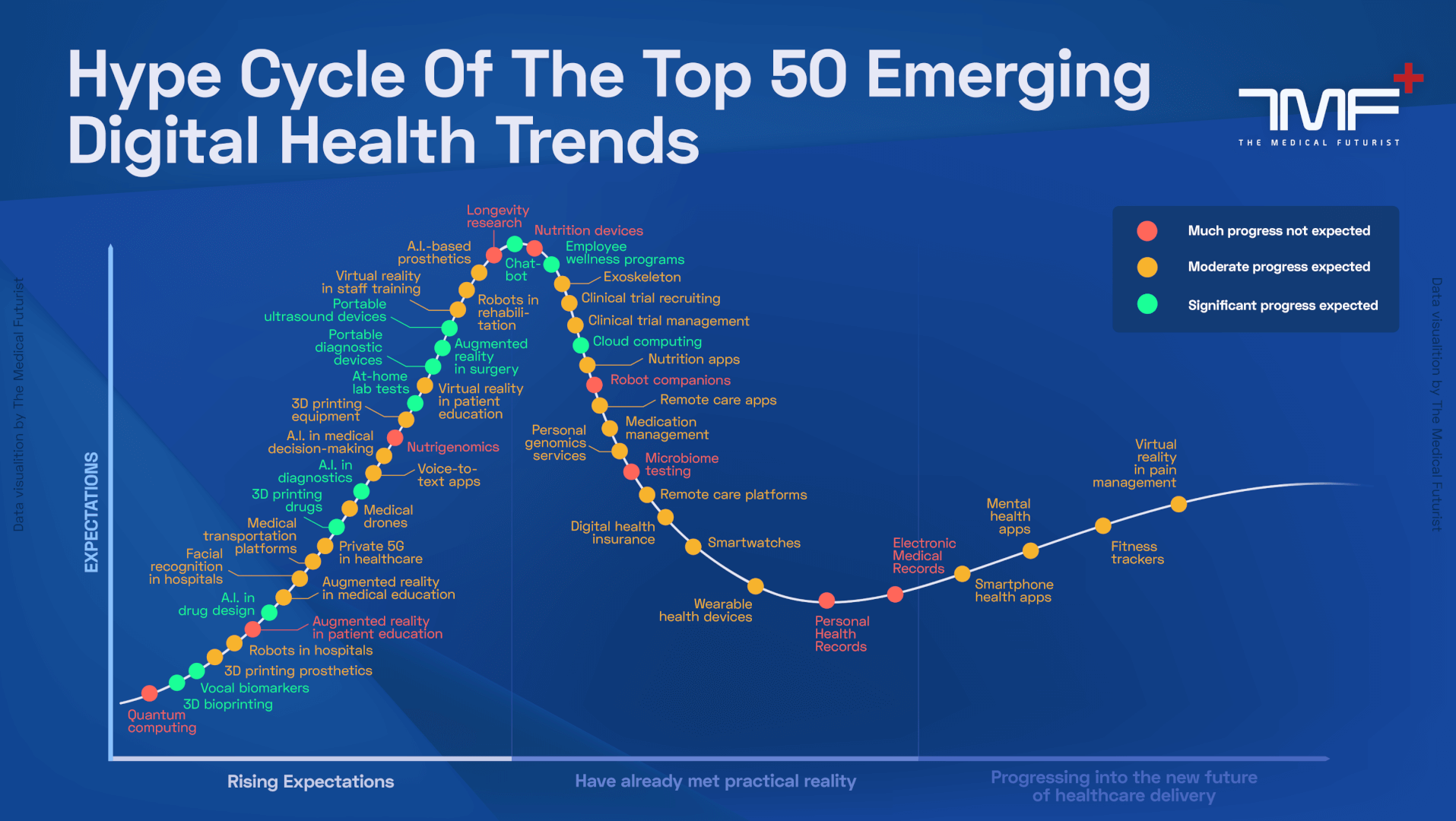 Showing the trends on their level of maturity can help to avoid unnecessary overexcitement around a technology; at the same time, it can help create hope that certain technologies will improve the patient-physician relationship through the required cultural transformation.
How to interpret the infographic?
The hype curve represents the level of expectations associated with a certain technology – the higher on the curve, the greater the anticipation. Where the technology stands on the horizontal scale reflects how it relates to practical reality – if it's only expected to be practically useful or whether it has reached the plateau of delivering actual healthcare solutions.
But it also matters which colour we used on the graphic for each technology. After diligently analysing the technology's promise and feasibility in actual healthcare settings, we also investigated the magnitude of the progress we expect from the particular technology. The way we coloured each trend was, of course, a subjective decision, as this cannot be quantified.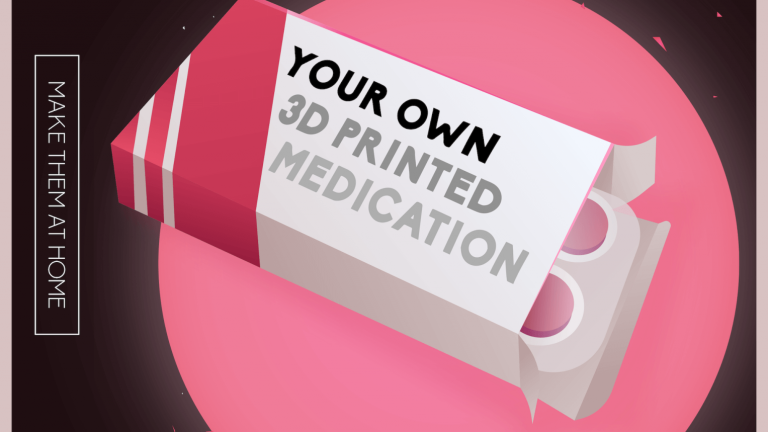 Green – meaning significant progress is in sight
At The Medical Futurist, we write quite a lot about 3D printing drugs, and this is no coincidence – we believe 3D printing has demonstrated huge potential for the future of medicine in the previous years, and its development is unstoppable. This technology will eventually shape the future of pharma, challenging our concept of the industry as it opens up a range of opportunities to bring the supply chain to the next level. What you see on the hype cycle is that the technology has still a long way to go to really hit pharmacies in reality – but it's on the road to do so fast and we will all benefit from it.
Orange – moderate progress in sight
Virtual reality in pain management is one excellent example of a promising technology reaching its current limits. It is being widely used in forward-looking hospitals and clinics where monetary limits allow. This technology can do a lot and is already used extensively in pain management, however, with our current technological knowledge, we are able to create so much within this field. I am sure that we will see companies in this field opening up the horizons for all of us – but it won't happen overnight.
Red – not much progress in sight
Only several years ago when the first companies arose in nutrigenomics, we had huge expectations around the technology. It did fit in the hype around genomics, and knowing how your genes affect the way your body processes food created the anticipation that this would change everything we know about eating. It did not.
We at The Medical Futurist still think the concept is great and that one day it'll be able to do what it originally promised. Nutrigenomics shows the way into the future, however, the concept was so hyped that the limelight was simply hijacked by companies yearning for attention but not having the proper science to back up their products. Interestingly, most of the companies around food technology have disappeared. I sincerely hope the second wave of them will be more successful.
---
The future of digital health technologies
These 50 technologies all have the harbinger to take us further on our road to digital transformation in healthcare. All of these have already contributed to changing our world in medicine for the better; and be it limitations of the current technical knowledge or space for expansion, or even regulatory hardships, we hope they will, in one form or another, survive and help create a better world for all of us.
At The Medical Futurist, we are building a community for making a bold vision about the future of healthcare reality today.
If you'd like to support this mission, we invite you to join The Medical Futurist Patreon Community. A community of empowered patients, future-oriented healthcare professionals, concerned health policymakers, sensible health tech developers, and enthusiastic medical students. If there were ever a time to join us, it is now. Every contribution, however big or small, powers our research and sustains our future.
Click here to support The Medical Futurist from as little as $3 – it only takes a minute. Thank you.
The post Hype Cycle Of The Top 50 Emerging Digital Health Trends By The Medical Futurist appeared first on The Medical Futurist.