The rise of Artificial Intelligence (AI) and Machine Learning (ML) in healthcare has reshaped the industry. And due to the recent march of ChatGPT, Midjourney and similar tools, various AI algorithms have entered the lives of the general population as well. These technologies will undoubtedly change the way medicine is practiced. Given that healthcare is an industry where decisions can literally be a matter of life and death, the importance of effective regulation can't be overstated. Now this is one hell of a challenge even for the most seasoned professionals.
AI and ML present novel regulatory challenges. Unlike traditional medical devices, these technologies are capable of evolving and learning over time. This means that they could perform differently in the real world than they did during their pre-market testing. While this could mean improved patient outcomes, it also could introduce new risks that need to be managed. Which is no easy task with a constantly changing algorithm.
Historically, the FDA has been a global pioneer in regulating novel technologies in healthcare. From pharmaceuticals to medical devices, the FDA was traditionally setting standards, no wonder, all eyes seem to be on the American regulatory body these days.
From zero to hero
A few years ago the regulatory landscape for AI and ML technologies was almost non-existent. Medical device approvals didn't explicitly indicate if a technology was AI-based. This made it difficult for healthcare professionals, patients, and other stakeholders to understand the extent to which AI was being integrated into healthcare solutions. Inventors and developers are also seriously hindered as they see no clear path to market approval of new technologies. It's crucial to distinguish these AI-based technologies because they carry unique considerations and implications for users and patients.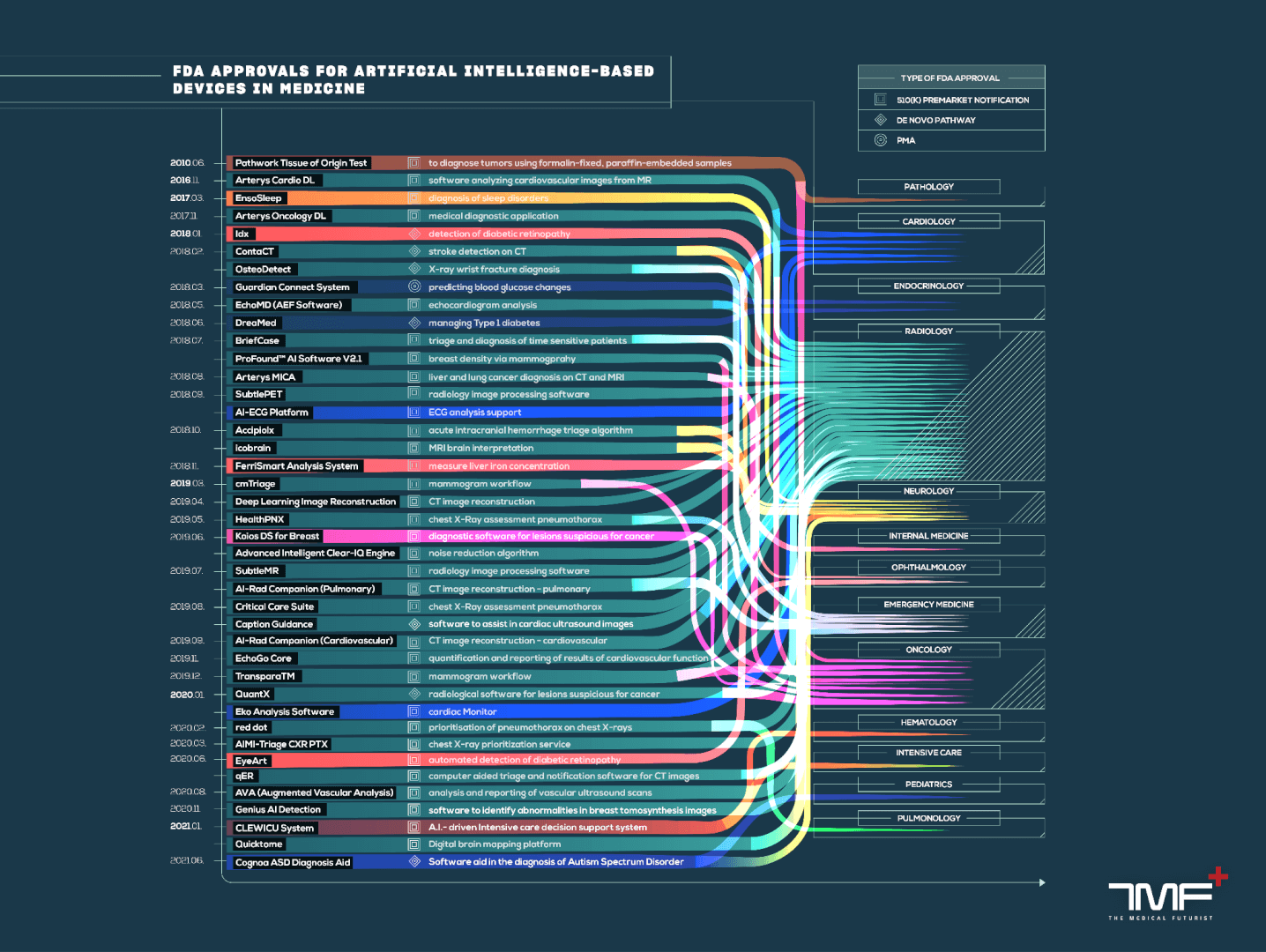 The FDA has been approving AI-based devices for years but didn't initially distinguish them as a unique category. A few years back, we at The Medical Futurist Institute took it upon ourselves to sift through all these approvals and identify the ones that were AI-based. From our work, we created an open-access database which we shared with the FDA so they could build on our groundwork. To our gratification, a year later, the FDA published their own database and cited us as a source.
To help people visualize this landscape, we also created an infographic that has since been downloaded by several million individuals, and has seen several updates since then. Here is the latest iteration of our "The Current State of FDA-Approved, AI-Based Medical Devices" infographic:
Now, there are three key aspects of this topic:
Which specialties are most affected?
According to our latest data analysis, radiology stands out as the most AI-invested medical specialty, boasting a whopping 392 approved devices. A distant second is cardiology, with 57 devices. Beyond that, other specialties (orthopedics, anesthesiology, pathology, ophthalmology and many others) only see a handful of devices. What propelled imaging to such heights? Well, deep learning found a fertile ground in radiology, which is largely data-driven.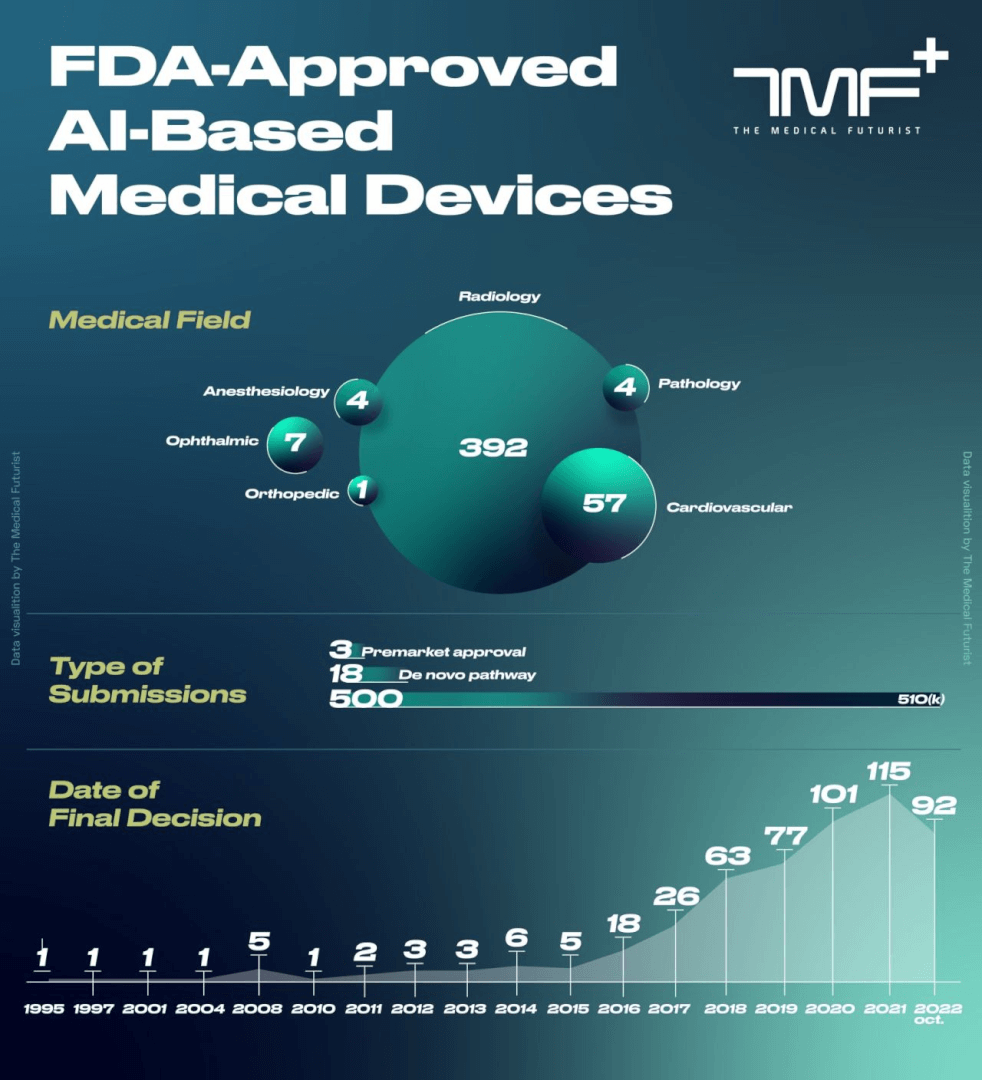 The FDA submission types
The FDA recognizes three distinct submission types: the 501(k), pre-market approval, and the De Novo pathway. By a long shot, the 501(k) is the most popular with 500 approvals so far, leaving De Novo and pre-market far behind with 18 and 3 approvals respectively.
No wonder 501(k) is so popular, simply put, it's the easiest route, as it is the pathway used for devices that are substantially equivalent to another legally marketed device. No new clinical trials needed, although companies need to prove that their device is as safe and as effective as the already approved one.
Meanwhile, pre-market approval is the most stringent type of device marketing application process. It is for high-risk devices, and it requires the manufacturer to provide clinical evidence demonstrating the safety and effectiveness of the device. This often involves clinical trials, which in turn makes it expensive.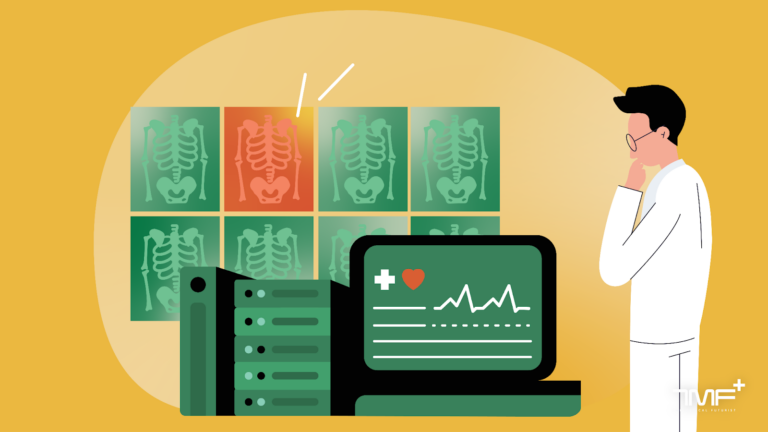 The De Novo pathway is a regulatory pathway for low- to moderate-risk devices that are novel and for which there are no legally marketed predicate devices. It is suitable for Class I or II (lower-risk classifications) medical devices.
The exponential growth we witness now
To date, the most recent database shows a total of 521 approvals. As of the latest, October 2022 FDA update (which reflects data roughly up to the middle of the year), there were 92 approvals in 2022 alone. This number was nearly on the brink of surpassing the total count of 115 in 2021. For 2023, we expect a surge in these numbers, especially given the ongoing AI technological revolution.
We will continue to monitor this field, given that the FDA's approach can set a valuable precedent for regulatory bodies in other countries. So, buckle up and stay tuned – there will be a lot to learn in the coming few years.
The post The Current State of 521 FDA-Approved, AI-Based Medical Devices appeared first on The Medical Futurist.