We are thrilled to announce the recent publication of our new study, Forecasting Artificial Intelligence Trends in Health Care: Systematic International Patent Analysis in the Journal of Medical Internet Research AI (JMIR AI). Our study takes an interesting deep dive into healthcare AI patents from the last decade, analysing over 10,000 of them from 2012 to 2022. Through this exploration, we shed light on the growth trends, the direction AI innovation is heading in different medical specialties, and the potential future implications of AI and Machine Learning (ML) in healthcare.
Our journey into the world of healthcare AI innovation and regulation started in 2019-2020 with a fair amount of research resulting in this study published in Nature digital medicine. A fascinating starting point for that venture was that although the FDA had been approving AI-based devices for years, they hadn't initially distinguished them as a unique category. We decided to sift through these approvals and identify those that were AI-based. This resulted in the creation of an open-access database, which we shared with the FDA. Imagine our delight when, a year later, the FDA published their own database and cited us as a source!
To illustrate this work, we also created an infographic, "The Current State of FDA-Approved, AI-Based Medical Devices," which, to our immense pleasure, has been downloaded millions of times and has been updated regularly since then. Here is its latest iteration:
But our curiosity didn't stop there! Our latest study ventured even further, focusing primarily on AI-based healthcare patents. As sadly there is no unified global patent database, we worked with data from the 5 most active patent offices. We identified more than 10,000 such patents over the past 10 years.
This undertaking was not just academic but also strategic, providing regulators with a clearer picture of the landscape they need to manage and the upcoming technologies they will need to regulate.
Our research was using the Espacenet database, which includes patents from the China National Intellectual Property Administration, European Patent Office, Japan Patent Office, Korean Intellectual Property Office, and the United States Patent and Trademark Office.
Our findings were intriguing. We identified a total of 10,967 patents,
with an overwhelming 66.9% (7,332 patents) originating from the China National Intellectual Property Administration
the United States Patent and Trademark Office contributed 25.2% (2,768 patents),
the Korean Intellectual Property Office 4.7% (513 patents),
the European Patent Office 1.7% (191 patents),
and the Japan Patent Office 1.5% (163 patents)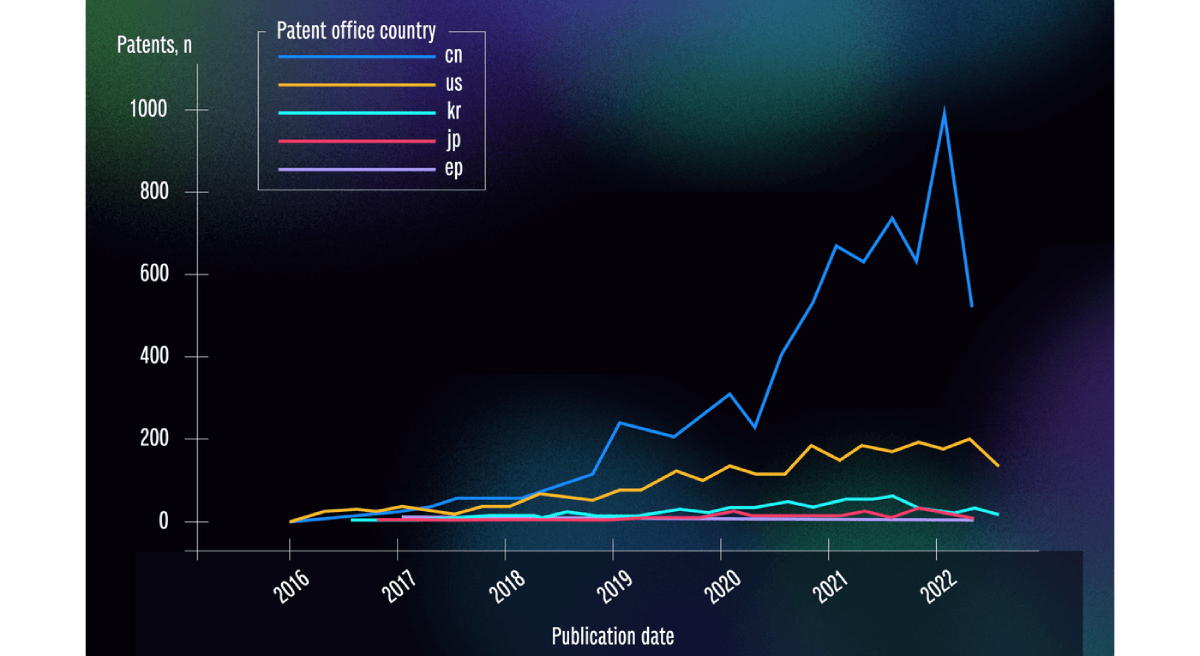 From 2015 until 2021, the number of published patents experienced an impressive doubling year on year. Five international companies played a substantial role in this surge:
Ping An Medical and Healthcare Management Co Ltd led the pack with 568 (5.2%) patents,
followed by Siemens Healthineers with 273 (2.5%) patents,
IBM Corp with 226 (2.1%) patents,
Philips Healthcare with 150 (1.4%) patents, and
Shanghai United Imaging Healthcare Co Ltd with 144 (1.3%) patents.
It is possible to predict which areas will need regulatory focus
We can draw several conclusions from this data. First, it is possible to predict which areas will need regulatory focus, as patents are followed by market-ready products/devices with a predictable delay. Radiology, coupled with Oncology and Ophthalmology, stood out with a significant number of patents, so these areas will see the largest number of new technologies in clinical practice in a few years.
Second, it is obvious that China is at the forefront of innovation, it is worth keeping an eye on them.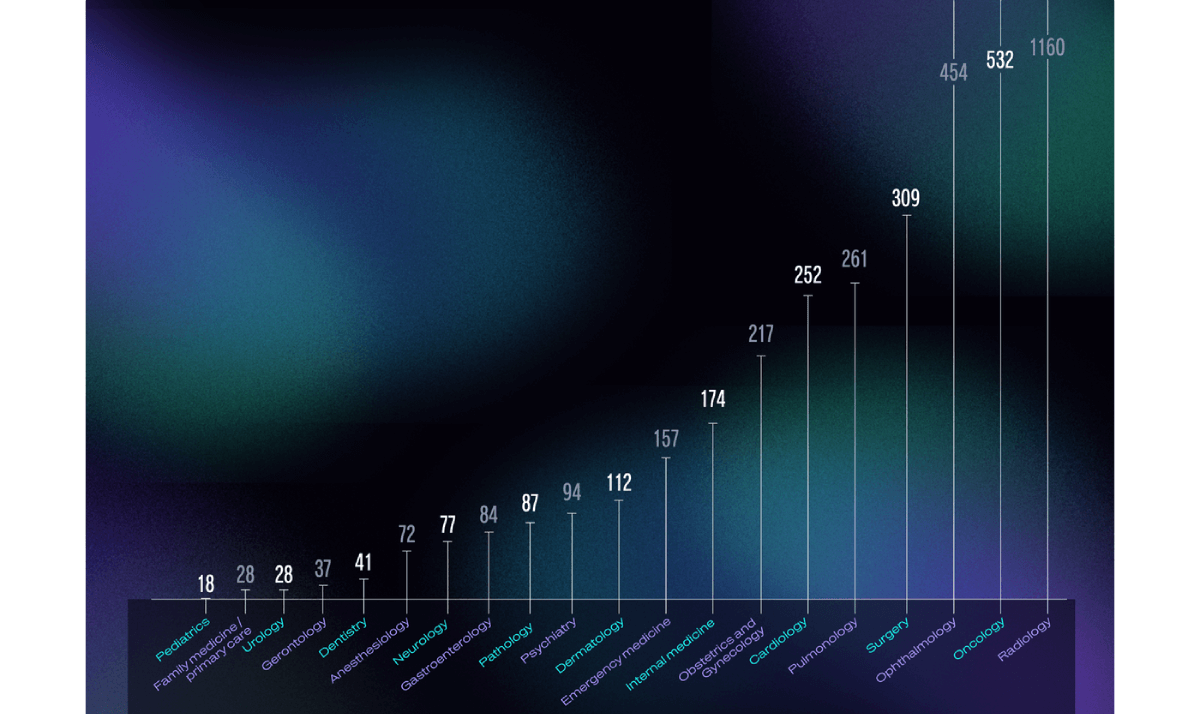 In our ongoing commitment to making information accessible, we've developed an open-access database of these patents. This database allows anyone to freely search and delve into the wealth of information about AI patents in healthcare.
Hopefully, this database will empower policy makers worldwide to better predict healthcare trends in AI and to see which medical specialties will need more detailed regulations around this breakthrough technology.
The post Analysis Of Over 10,000 Healthcare AI Patents Highlights Future Trends: Our New Study appeared first on The Medical Futurist.