The healthcare sector is at a juncture of significant transformation, fueled by technological advancements and evolving medical knowledge. Over the past few years, we've pinpointed eight high-level trends that are set to reshape healthcare delivery profoundly. While we have explored these trends individually in previous posts, we've yet to summarize them cohesively in one comprehensive article.
This article aims to bridge that gap, providing a condensed overview beneficial for healthcare professionals and users alike.
In the pursuit of more streamlined and patient-centric healthcare, traditional hospital frameworks are under reassessment. The stereotypical scenes of long waiting lines, overwhelming paperwork, and sterile, uninviting corridors symbolize a dated workflow. The evolution towards modernity beckons a shift from this conventional setup, ushering in an era where patients, armed with digital health tools, become the focal point of care, reducing the dependency on traditional hospital confines.
This transformation is in part driven by the advent and adoption of digital health technologies, notably wearables, telemedicine, and solutions like at-home lab tests, that allow us to carry out procedures at home that formerly were impossible without visiting a healthcare institution.
Patients can now monitor their vital signs regardless of their location, sharing this data with healthcare providers remotely. Although this doesn't render hospitals obsolete, (we won't have MRI machines at home), it repositions them as health centers focused on disease prevention, acute care, and specific medical procedures requiring sophisticated equipment.
Although we started our list with this trend, this actually will be the end result of the paradigm shift we witness.
Companies such as Atlas Biomed in the UK, Dante Labs in Italy, and AliveCor in the US exemplify the erosion of geographical barriers, offering patients worldwide access to quality digital health services, albeit with some shipping restrictions. The digital health sector not only democratizes healthcare by making patients the point of care with direct-to-consumer services but also augments the doctor-patient relationship with a shared decision-making paradigm.
It's worth mentioning that digital health can only assist users who have the means to afford it. As many studies have proved, wearables are currently not equally available to everyone around the globe, and in most cases, these devices are out of reach for users with no or limited access to quality healthcare. In other words, digital health is typically unavailable to those who would benefit the most from it. Health equity, however, is not a technological question, but a profound social issue.
The ultimate goal is to achieve affordable and universal access to healthcare, leveraging digital technologies to transcend traditional geographical and systemic barriers, making healthcare truly global. But this is a task that puts more burden on politicians and policymakers than on tech companies.
The evolution of remote care is setting a new standard in the healthcare landscape. Asynchronous telemedicine, a facet of remote care, allows for a more efficient exchange between patients and healthcare providers without the necessity for real-time communication. This form of telemedicine comes with a host of benefits including flexible schedules for healthcare practices, efficient task stacking, accommodating younger patients' communication preferences, addressing language barriers, and transmitting extensive health data seamlessly. While concerns about impersonal communication and potential delays in response exist, the overarching narrative is about leveraging asynchronous telemedicine to mitigate physician shortages and burnout, which are pressing issues globally.
The COVID-19 pandemic significantly accelerated the adoption of telemedicine and at-home diagnostic kits, showcasing the convenience and accessibility digital health technologies offer. In the linked article, we also envisioned a futuristic scenario with a seamless global network of healthcare providers and the immense potential for patient-centered care. However, this global convergence necessitates updated training for physicians to adeptly handle international data and a new regulatory framework to ensure these technologies' safe and effective use.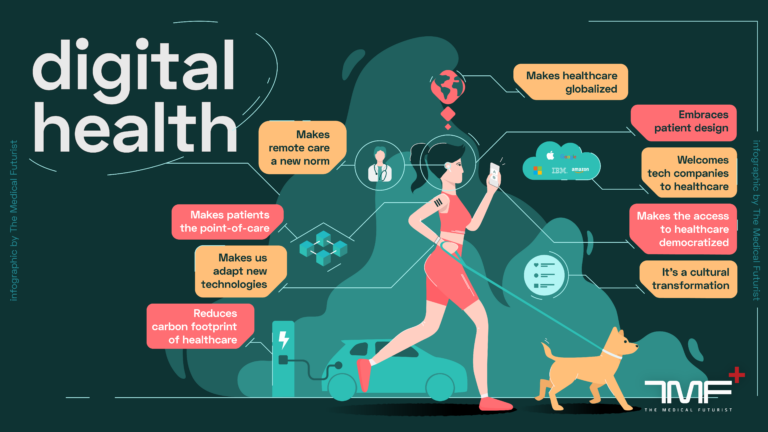 The palpable shift towards remote care isn't just a technological leap but also a cultural transformation, propelled significantly by the pandemic. The newfound convenience, cost-effectiveness, and time efficiency associated with telemedicine stay with us in the post-pandemic era.
Additionally, remote care also intersects with broader goals like decarbonizing patient pathways. The shift to digital prescriptions, promoting healthy eating, organizing resources with AI, and especially the core of remote monitoring and care, play parts in a larger narrative of fostering a more sustainable and environmentally friendly healthcare model. As remote care integrates further into the healthcare system, the anticipation is not only towards more efficient patient-doctor interactions but also towards a significant reduction in the carbon footprint associated with traditional healthcare practices.
The shift from a patient-centric to a patient-designed approach in healthcare is a much-needed evolution, aiming to materially involve patients in decision-making processes. Patient centricity, while a laudable idea, often remained a tokenistic gesture, where decisions were still heavily dominated by medical professionals without genuinely incorporating the patient's perspective. On the contrary, patient design brings patients into the core of decision-making, reflecting a co-design approach where they are seen as active participants and stakeholders. This approach recognizes that the dated hierarchy, placing medical professionals as the sole custodians of relevant knowledge, no longer holds in the face of today's information accessibility and technology-driven empowerment.
Patient design is manifested in various facets of healthcare, from product development to research and clinical design. Inspirational stories of individuals like Sarah Olson and Tal Golesworthy underscore the profound impact of patient-driven innovations, which arise from a dire need for practical solutions, often spurred by personal or familial suffering. Unlike traditional research teams focused on broad theories, these patient innovators are driven by a pressing need for immediate solutions. This approach leads to pragmatic, real-world applications that may not only alleviate the suffering of individuals and their loved ones but also significantly benefit others facing similar health challenges.
Furthermore, the integration of patient design extends to research priorities and clinical environments. For instance, when research is reshaped to address patients' urgent needs, it bridges the existing gap between scientific advancements and public health outcomes.
Additionally, involving patients in clinical design, as the Netherlands' Radboud University Medical Centre Nijmegen did, can redefine the healing environment to foster better patient-physician relationships and potentially expedite recovery. Patient design, therefore, is not merely a conceptual shift but a pragmatic approach to infusing healthcare with real-life perspectives and needs, making the field more responsive, humane, and effective.
The tech giants like Google, Amazon, Apple, Microsoft, NVIDIA, and IBM are rigorously exploring healthcare as a new frontier for innovation and business expansion. With a long-term vision, they are integrating technology to solve complex health challenges and improve healthcare delivery.
The core of this convergence lies in the integration of Artificial Intelligence (AI), machine learning, cloud computing, and other cutting-edge technologies. These are being employed across a myriad of applications such as diagnostic imaging, patient monitoring, and disease prediction, aiming to bolster patient care while mitigating costs.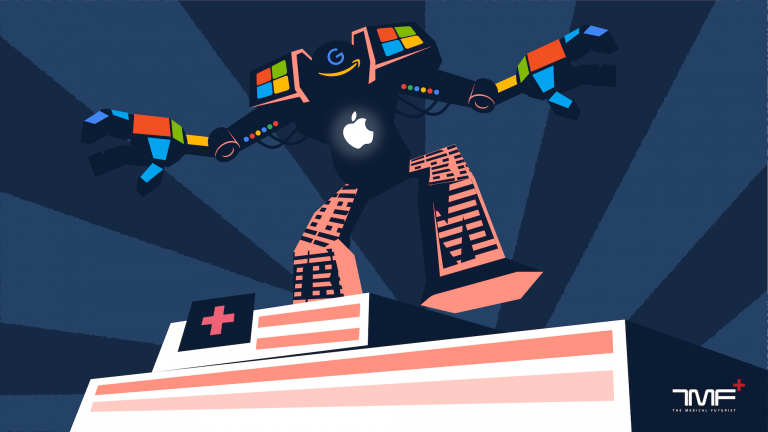 This merger of tech and healthcare is also marked by a consumer-centric approach, as witnessed through the advent of wearables and health applications. These innovations are rendering healthcare more accessible and personalised, empowering individuals to monitor and manage their health seamlessly. 
Tech companies entering the sector will lower the threshold for accessible diagnostics. While many can't afford to spend $150-200 on a dermatologist consultation to check a new birthmark, they may spend a few dollars in an app to have it checked – and thus have a better chance to catch a malignant lesion in time.
However, this convergence is not without its challenges. Navigating through the complex labyrinth of healthcare regulations remains a significant hurdle. The paramount concern revolves around the privacy and security of health data, necessitating stringent compliance with healthcare standards and laws.
The paradigm shift we witness is not just technological but also profoundly cultural, morphing traditional patient-physician relationships. The healthcare industry is moving away from a paternalistic, hierarchical model towards a more partnership-driven paradigm. In this new landscape, physicians transition from being the sole custodians of medical knowledge to guides navigating patients through a complex jungle of data, decisions, and information. This transformation underscores a democratization of healthcare knowledge, enabled by the vast swathes of information and digital tools now available at the fingertips of both medical practitioners and the populace.
On the flip side, patients evolve from being passive stakeholders, awaiting symptoms to manifest before seeking medical intervention, to proactive, empowered individuals. The modern patient is more informed, more engaged with their health, and desires a collaborative relationship with their healthcare providers. Wearable tech, health apps, and online platforms provide real-time data and a plethora of information, allowing individuals to monitor their health metrics continually, anticipate potential issues, and seek timely advice.
The infusion of technology acts as a significant catalyst in this cultural transformation, changing the way healthcare is perceived, accessed, and delivered.
Personalised medicine is tailored to the individual characteristics, needs, and preferences of patients. This form of medicine leverages advancements in technology, genomics, and data analytics to offer more precise, predictable, and preventive healthcare. 
For instance, genetic testing, a cornerstone of personalized medicine, can unveil an individual's susceptibility to certain diseases, their likely response to various treatments, and the potential risk of adverse reactions to specific drugs. This level of insight empowers clinicians to design treatment regimens that are aligned with each individual's unique genetic makeup, significantly enhancing the efficacy and safety of medical interventions.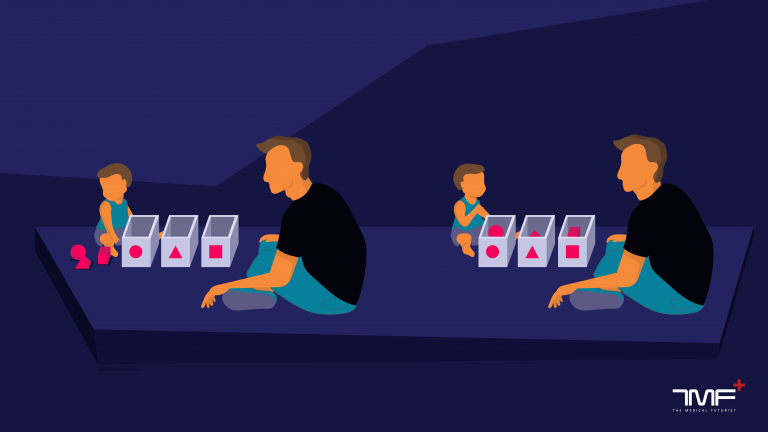 As we venture deeper into the realm of personalized medicine, the concept of digital twins emerges. Digital twins are virtual replicas of an individual's physiological and genetic profile. These present a platform to simulate the effects of various treatments in a risk-free, virtual environment.
These digital replicas can allow for a meticulous analysis of treatment outcomes. For instance, in the foreseeable future, a digital twin could simulate the response of a cancer patient to different drug combinations, offering invaluable insights into the most effective and least toxic treatment strategy for that individual. This form of virtual trial-and-error can significantly accelerate the identification of optimal treatment protocols, minimizing the physical, emotional, and financial burdens traditionally associated with the trial-and-error nature of conventional medicine.
The marriage of genetic insights with innovative technologies fundamentally transforms the healthcare landscape. By embracing the tenets of personalised medicine, healthcare providers can offer more targeted, effective, and safe medical care, where the right treatment is delivered to the right patient at the right time.
8) New medical teams arise
The paradigm shift in healthcare towards a more inclusive and collaborative approach redefines the traditional medical team's construct. Gone are the days when the medical professional was the sole custodian of a patient's health journey. In the contemporary scenario, the medical team is a confluence of healthcare professionals, the patient, and increasingly, artificial intelligence. The rationale is simple yet profound: who could be more invested in a patient's well-being than the patient themselves? Empowering individuals to take the reins of their health not only democratizes healthcare but also cultivates a richer, more informed dialogue.
Initially, the notion of patients morphing into active participants in their healthcare may evoke apprehensions among both medical professionals and patients. However, the continuously expanding corpus of medical knowledge renders it virtually impossible for any physician, regardless of their dedication, to single-handedly stay abreast of every medical advancement. Contrastingly, an engaged patient or their kin can delve into the depths of specific medical domains, unearthing contemporary studies, technologies, or emerging treatment protocols relevant to their health conditions. Though not replacements for medical professionals, these informed individuals can enhance the decision-making process.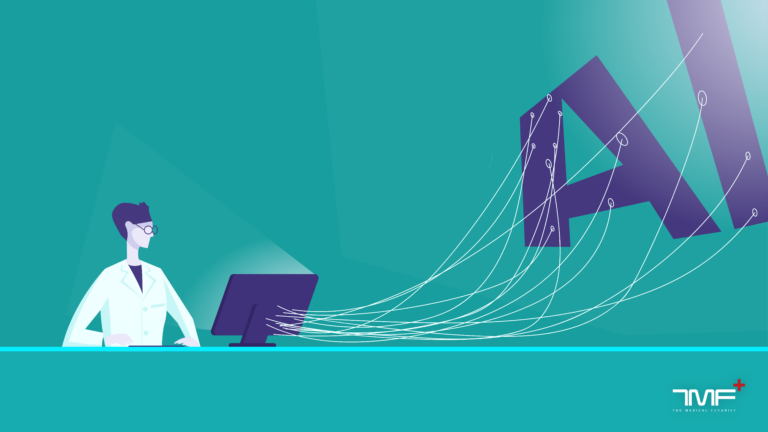 As we tread further along this trajectory, artificial intelligence (AI) emerges as the newest entrant in this expanding medical team. With an innate capacity to sift through vast swaths of data, discern patterns, and provide insights, AI serves as a force multiplier in the medical domain. Algorithms, designed to assist in diagnostics, treatment planning, and monitoring are making headway, and we can rest assured that various AI models will become safer and more efficient in assisting medical work.
The post 8 Practical Predictions For The Near Future Of Healthcare appeared first on The Medical Futurist.