In today's hyper-connected world, technology promises us a clearer insight into our health and well-being. With a glance at our wrist or a quick tap on our phones, we can get a snapshot of our heart rate, the quality of our sleep, or the number of steps we've taken in a day. These tools, designed to empower us, can sometimes have an unintended consequence: they can become sources of anxiety and stress.
Lacing up your running shoes, you head out for a morning run. Looking forward to feeling the wind in your hair, the sun on your face, to enjoying the time to connect with nature and yourself. But the real-time feedback from your wearables starts to distract. You can monitor your current/average pace, the distance covered, and your heart rate. Instead of the surroundings, your focus drifts to these metrics. The joy of the run diminishes under the weight of performance metrics. Exercise turns into an eternal quest for Personal Bests, leaving you questioning if you're doing well enough even before you've returned home.
Or consider the days when you wake up feeling fine, ready to tackle the day ahead. But then, your sleep tracker shows that your sleep was less than ideal. A shadow of doubt casts over your mood, and suddenly you start to feel tired. What should have been a tool for understanding becomes a source of self-doubt.
These scenarios underline a growing concern known as "digital health anxiety", where the very tools meant to enhance our health awareness can inadvertently lead to unease. Such concerns are becoming widespread. Multiple Medical Futurist team members stopped tracking their runs and decided to leave their watches on the nightstand, exchanging some of the data for peace of mind.  
More data = more anxiety?
Although our initial content idea came from subjective experiences, research backs the gut feelings of our team members. More data and more digitalisation mean more stress. More digital health – our wearables, phones, apps – can cause more anxiety.
While digital tools offer unprecedented insights and connectivity, there's a growing body of evidence suggesting they might inadvertently amplify stress, anxiety, and other mental health concerns.
One of the most profound shifts has been the omnipresence of mobile devices. The transition from mere communication tools to comprehensive mobile computers has made the internet ever-present in our daily lives​. This ubiquity leads to a plethora of challenges: persistent distractions that impair cognitive abilities​, disrupted sleep cycles due to screen exposure​​, a blurred work-life boundary​​, and an ever-present Fear Of Missing Out (FOMO) compounded by the curated realities showcased on social media​​.
Delving into the health-tech realm, smartwatches and fitness trackers, which promise real-time health insights, often become unintended sources of anxiety. A study underscored this by detailing the experiences of heart patients using such devices. These patients found themselves in a quandary, becoming more informed yet simultaneously more anxious.
Moreover, a linguistic analysis spanning 50 years, using the Google Books Ngram Viewer, revealed a parallel rise in the mention of anxiety, depression, and digitalisation in literature across multiple languages. This correlation suggests that as our world becomes more digitized, there's a heightened collective awareness and concern about mental well-being​.
Striking a balance between embracing these tools and understanding their psychological implications is pivotal as we navigate this intricate digital landscape.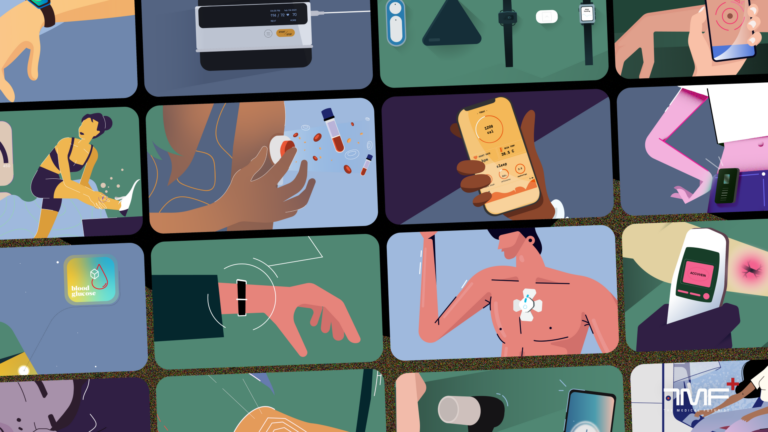 We need proper support to combat health data anxiety
It is evident that data you can't properly use to make better decisions will only cause frustration. Doctors, patients, and everyday people don't differ in this regard, distractions by useless data will cause anxiety. However, with the right guidance, this very data can transform from a potential stressor to a powerful ally in one's health journey.
Recent studies underscore the profound impact of professional oversight in digital health interventions. For instance, a meta-analysis highlighted that digital health technologies when accompanied by healthcare provider guidance were even more effective in mitigating anxiety and depression among adults with chronic conditions​. Such guidance helps in translating raw data into actionable insights, ensuring that users not only understand the metrics but also know how to respond to them.
Furthermore, digital tools tailored for specific populations, like the "Brain in Hand" system for autistic adults, have shown marked improvements in quality of life aspects when used correctly. This system, which provided 24/7 support alongside practical tools, significantly reduced reported anxiety levels among its users, emphasising the power of a combined approach of technology and expert intervention​.
You can't avoid this learning curve
The road to integrating guided support is not without challenges. If you want to see your health data, you need to get used to seeing health data – however trivial it sounds. The good news is that it is possible to get accustomed to it, especially if your family practitioner can help you make sense of all the information you receive, from health metrics to genetic test results.
On a population-wide scale, it requires collaborative efforts, bridging the gap between tech developers, healthcare professionals, and end-users. With the right training and resources, healthcare professionals can be equipped to guide patients in navigating these digital tools, ensuring they're a source of support rather than stress. Until it becomes the norm, you need to be more picky and make sure to have a GP who can also be your digital health ally.
And on a personal level? The best advice we can give you is
never feel bad about asking
be forgiving with yourself and let it go
Your doctor has spent countless years learning how to make sense of health data, no wonder they do it better. If you don't know what the changed patterns in your movement, heart- or respiratory rate mean, just ask. If you are not sure whether your watch alerts are worrisome, just ask. Make sure you discuss all these issues with your practitioner so you understand when to care and when not to worry.
And if data pressure freaks you out, just stop tracking your every movement. It is much more important that you enjoy your morning runs (sleep, sex, meditation, meals, etc) than having all the data about what feels like must-overachieve endeavors.
The post Digital Health Anxiety: When Wellness Tech Becomes A Stressor appeared first on The Medical Futurist.