Most of us might take the breathing process for granted; after all it is an autonomous process that we only really start noticing when something about it is off. However, respiratory diseases are among the major causes of fatalities worldwide. The WHO estimates that by 2030, such conditions will be responsible for one in five deaths.
As the signs of declining respiratory health or factors that influence it can be subtle, an array of digital health technologies and approaches have come to address such issues. Along with those innovations, new terminologies such as smart breathalyzers, breathomics and exhalome have entered the medical and consumer jargon. In this article, we will get better acquainted with those emerging terms and how the respiratory health landscape is shaping up in the digital health age.
Breath of fresh air: getting acquainted with new respiratory terminologies
Most of us, especially drivers, might be familiar with breathalyzers. These are the devices that have traditionally been used by police units to monitor drivers' blood alcohol content (BAC). The user performs a breath test through a device, which then determines whether their BAC is within the legal limit.
The basic principle behind the functioning of breathalyzers also serves as the backbone for collecting samples for performing health-related analyses other than BAC. This is what the field of breathomics focuses on. It studies volatile organic compounds found in exhaled breath, which could serve as diagnostic biomarkers. Some researchers are further investigating the exhalome or the entirety of exhaled molecules for clinical interpretation. 
Having familiarised ourselves with those terminologies, let's see what their applications in the era of digital health hold for patients and the field of respiratory medicine.
Smart breathalyzers: inspirational tech for patients
Traditionally, breathalyzers have been accessible mainly by professionals. However, digital health approaches have democratized access to the technology, enabling the general consumer to make use of and own a breathalyzer. The portable BACtrack Mobile is one such personal breathalyzer that can inform users of their actual BAC levels, and even call an Uber from the companion app.
Breathalyzer techniques have also been adopted by metabolism tracker Lumen. Instead of alcohol content, it measures carbon dioxide and oxygen levels in the air. Based on those readings, the device's companion app will determine the predominant fuel source of the body and provide dietary recommendations.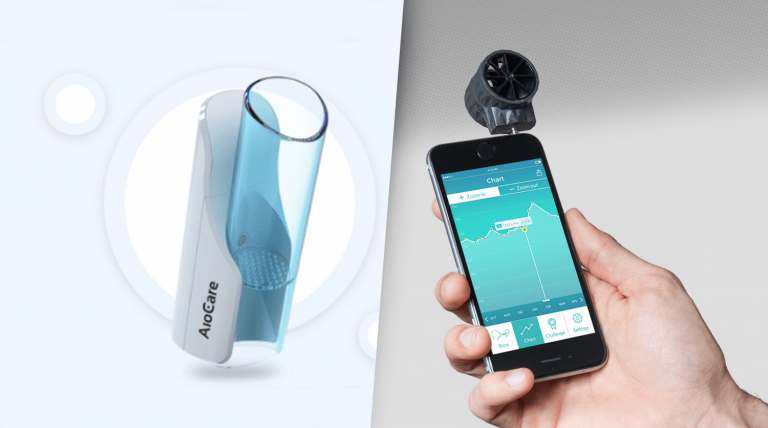 Beyond BAC and metabolism tracking, the management of respiratory illnesses has also embraced digital health approaches. A prime example is asthma, which thousands of new patients are diagnosed with every year. However, asthmatic patients often experience difficulties adhering to proper inhaler techniques, which can lead to poor control of their condition. This can be addressed by smart inhalers such as Hallie and Propeller which can monitor and assist the patient's medication use.
Another range of digital health tools that asthmatics can employ is smart peak flow monitors. These measure peak flow, an indicator of how fast the user can exhale, and the ensuing score can be indicative of asthma. Some, such as the AioCare, can even let users perform spirometry tests to monitor lung functions. 
In the future, patients can expect peak flow monitors, spirometer, breathalyzer and metabolism trackers to be integrated in one device; or at least have several of these features in one device. This could allow for more personal monitoring of one's respiratory health.
Breathomics and exhalome: a whiff of innovation for respiratory health diagnoses
On the clinical side, new developments in the field of respiratory life sciences have started to gain traction. In particular, the field of breathomics has gained the attention of academics. Researchers consider the analysis of volatile compounds in exhaled breath a promising source for the clinical interpretation of respiratory illnesses. This is in part due to the non-invasive nature, low patient burden and direct sampling from the lungs that breathomics enable.
While still a budding field, it has been the focus of certain research groups such as the University Medicine Zürich's Zürich Exhalomics project. The latter is investigating breath analysis in order to make the exhalome interpretable and usable in everyday clinical practice. Other researchers have identified exhalome biomarkers that could assist in the detection of airway infection.
Through such developments, breathomics analyses could become a routine assessment in the future during medical visits as a quick and non-invasive way to assess the respiratory health of patients. However, respiratory medicine research has traditionally remained underfunded and can hamper such a future. But following the COVID-19 pandemic, a renewed interest in this field might be upcoming to realize its untapped potential.
Written by Dr. Bertalan Meskó & Dr. Pranavsingh Dhunnoo
The post Breathalyzers, Breathomics And Exhalomics In The Digital Health Age appeared first on The Medical Futurist.