Major tech companies have been venturing into healthcare for years, and we've been following and analysing their progress along the way. We have scrutinized their efforts individually (see: Google, Apple, Amazon, NVIDIA, Microsoft, IBM) and in summaries and more summaries, analysed what we can learn from the tech giants-healthcare-collaborations and even dared to publish some forecasts about what we expect their next moves will be. 
And most recently we finished a major update on one of our most popular e-books, Tech Giants In Healthcare. As the book is out now, here is a 2023 power ranking of the most important non-healthcare players in the healthcare industry, based on their 2023 scores on Health, Innovation & Tech (HIT) Index.
Tech Giants in Healthcare – Updated Edition
This comprehensive guide, Tech Giants in Healthcare, clarifies how and why big tech companies step into healthcare, and breaks it down from one market player to the other in what direction they are going, what tools they are using and what horizons they have in front of them.
This score-based system in the e-book is used to assess the healthcare endeavors of the companies based on their practical examples, potentials, as well as chances of failure, each scored on a scale of 5. Since every company has a unique edge they bring in this sphere, we also highlight their uniqueness. In the book, the HIT index scores will give you a better overview of the direction of the company in question in healthcare.
The theoretical maximum score is 20, and in this article, we only mention the top 5, while the book covers a wider spectrum of companies.
4th place tier: Apple – and its closed system complex
With a HIT index score of 12 points, Apple ranks 4th on our list.
The vision of Steve Jobs – a closed infrastructure providing flawless user experience to a loyal customer base willing to pay a little premium – still seems to work pretty well if we talk about consumer devices, like phones and smartwatches.
The same vision however might be a significant obstacle if we try to imagine Apple marching into other segments of the healthcare ecosystem, like delivering solutions to hospitals or other healthcare providers.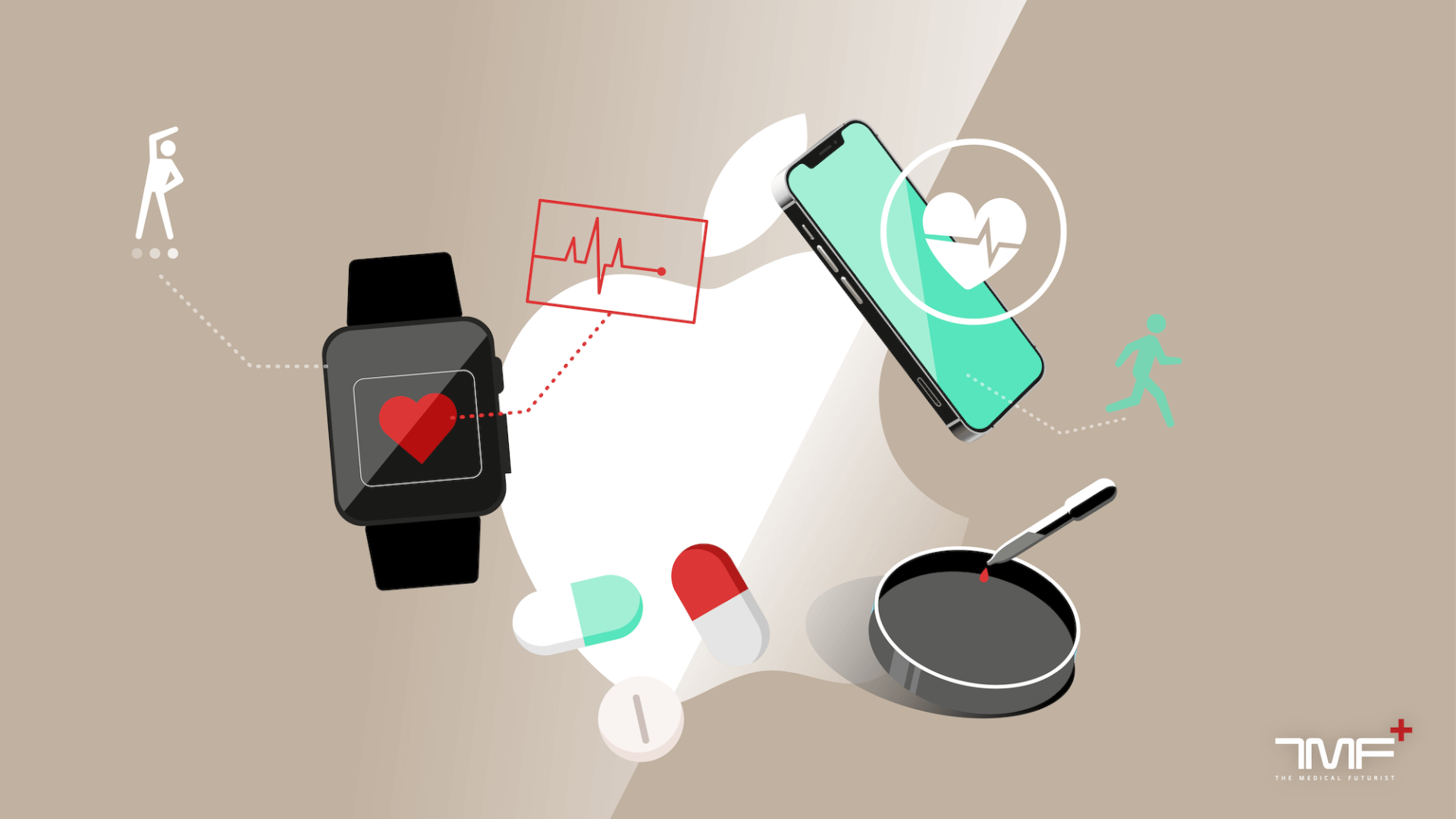 While iPhones and Apple Watches are not exactly cheap, Apple recently introduced VisionPro, which is orbitally expensive. While I'm still worried about its price as the major barrier to wide adoption ($3,499), many experts seem to be optimistic. "Dr Rafael Grossmann, a general surgeon with a background in robotic surgery and the first to live-stream a surgery using Google Glass, believes the Apple Vision Pro could be very useful during an operation when information is critical to a patient's survival. Within the operating room, you are gathering data in mixed reality that is helping you in real-time, in a synchronous fashion, do the procedure."
Healthkit and the Apple Watch are good examples, and while their high-end approach might lead to being overpriced, which is not a welcomed feature in healthcare, their end-to-end technology also provides a highly valuable feature: privacy.
Over the next few years, we'll see how and if the two sides can adapt to each other. Value-based care and the consumerisation of healthcare are definitely two trends that will have a significant impact on healthcare – and on Apple's revenues.
4th place tier: NVIDIA – delivering to everyone who needs it
With a HIT index score of 12 points, NVIDIA also ranks 4th on our list.
NVIDIA might be renowned as the company that manufactures hardware that allows PC gamers to experience stunning visuals in the latest games, but it has also been making strides in the healthcare industry. "For over a decade, we have partnered with the medical devices ecosystem to bring innovative diagnostic imaging, robotic surgery and patient monitoring devices to the market," Kimberly Powell, Vice President of Healthcare of NVIDIA, told The Medical Futurist in an interview.
Moreover, the company's graphic processing units (GPUs) are integral hardware components of computers used around the world to support demanding research projects, even if they don't specifically partner with NVIDIA.
NVIDIA's technology is unique in that it is a single computing platform that is embedded in a medical device, at the edge of a workstation or server at the hospital, or available on every public cloud. That means they can serve applications that need to be done in real-time like emergency room triage, robotic surgery, or ICU patient monitoring to assist in the detection and understanding of disease all the way to studying patient populations to predicting patient outcomes.
The company announced a collaboration with Medtronic in 2023 to accelerate the development of AI in the healthcare system and bring new AI-based solutions into patient care. But this was not their only noteworthy AI venture these days.
NVIDIA gear was used in a fascinating study in 2023, where authors trained a large language model for medical language and fine-tuned it across a wide range of clinical and operational predictive tasks. If you are a healthcare professional, working with the EMR system as if you worked with ChatGPT must make you excited. The authors also evaluated their model within their health system for five tasks. 30-day all-cause readmission prediction, in-hospital mortality prediction, comorbidity index prediction, length of stay prediction, and insurance denial prediction.
3rd place: Amazon – eating it all, one bite at a time
With a HIT index score of 13 points, Amazon ranks 3rd on our list.
In the last couple of years, Amazon has shown exponential growth in interest in the pharma industry and healthcare. Looking at the company's profile, it is not surprising that it's aiming for the online pharmacy market.
In 2023 Amazon also entered the generative AI realm by launching genAI-based clinical documentation services. The Amazon Web Services tool, called HealthScribe, allows providers to build clinical applications that use speech recognition and generative AI to create transcripts of patient visits.
Then it can identify key details and create summaries that can be entered into an electronic health record. According to Amazon, the tool was being previewed for two specialties: general medicine and orthopedics.
However, remote pharmaceutical services aren't the only remote component of health that Amazon is looking into. In 2021, the company's telehealth branch expanded into 21 more states in the U.S.
In 2022, the company coughed out $3.9 billion for One Medical, a chain of primary care clinics around the United States. This deal seems to have meant the end of Amazon Care, which was shot down at the end of 2022. Amazon Clinic, the successor of Amazon Care is moving forward with solid steps. It expanded its virtual care service across the United States, which lets patients connect with multiple telehealth provider groups. "Visits cost an average of $75 and Amazon will not accept insurance for the visits." – they announced in the summer of 2023.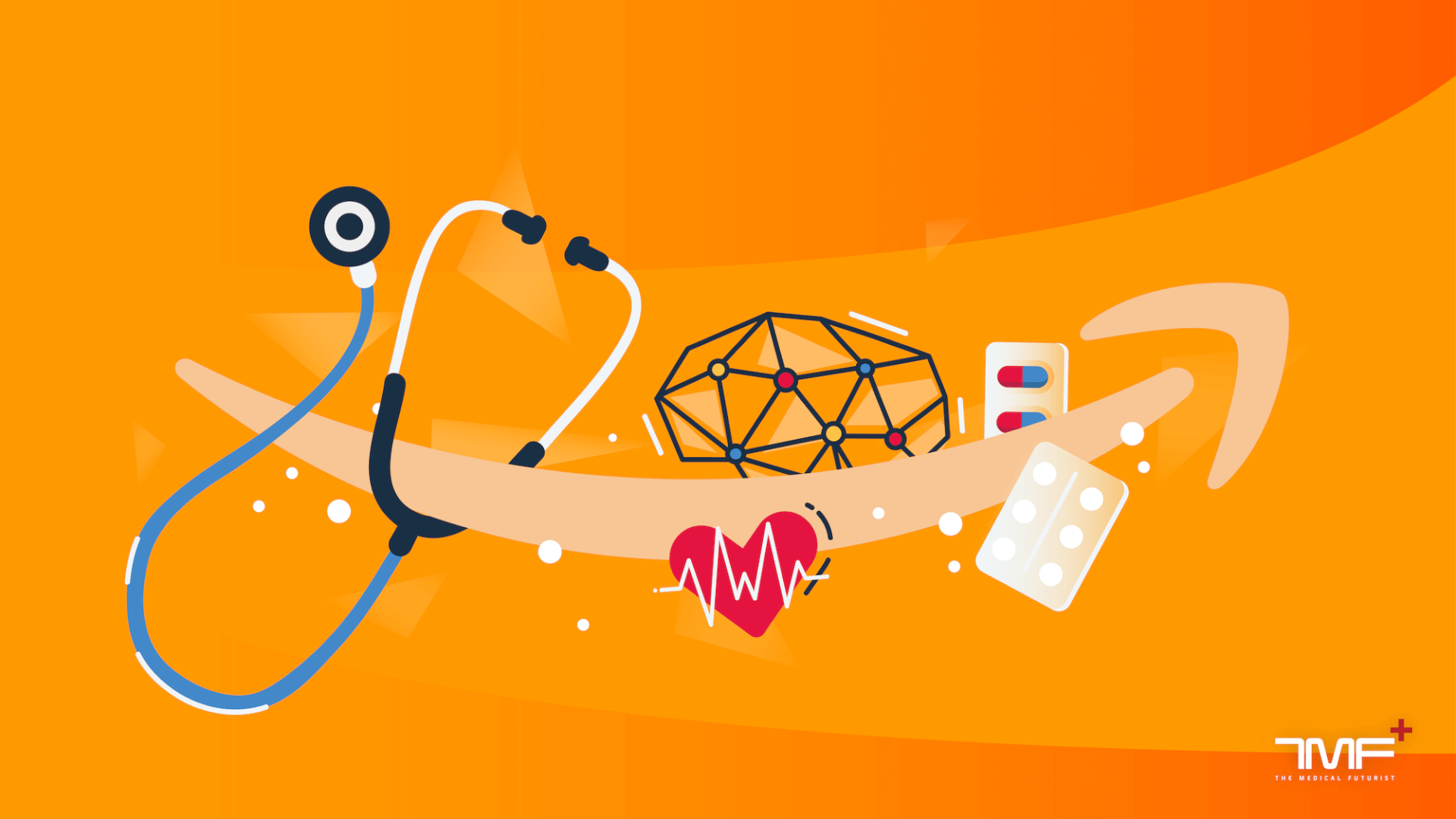 And this is not all. The tech giant already introduced the Amazon Web Services platform in March 2006 – way before it was clear how cloud computing solutions could be beneficial for users or providers. However, it was one of the smartest moves of the company. By the end of 2022, AWS owned 40% of the world's public cloud infrastructure market. That might be the reason why the genome sequencing giant Illumina decided to power the platform its customers use for genomics analysis and storage needs.
In the last couple of years, Amazon started to systematically conquer the healthcare space in its own unique ways. It is evident that it wants to become the "real deal" in the medical community, and it certainly has some outstanding qualities to leverage on. For example, no one can be on par with Amazon's marketing machine, sales force, and supply chain, while the sheer number of employees – more than 1.5 million people – might make rivals apprehensive of their own chances on the market.
On the other hand, the convergence of Amazon's vast data streams across sectors, including healthcare, poses significant challenges concerning patient privacy and data security, and it illustrates the old philosophical debate about the limits of corporate reach into our personal domains.
2nd place: Microsoft – silently doing Microsoft things
With a HIT index score of 14 points, Microsoft ranks 2nd on our list.
Of all participants on the list, Microsoft is probably the second least visible after only NVIDIA. However, this silence should not be mistaken for insignificance when we think about the tech future of healthcare. Microsoft has a massive advantage: a huge user base in hospitals and health practices all around the world.
In September 2020, it launched Cloud for Healthcare, a new, healthcare-centric cloud. It integrates the company's existing services like Microsoft Teams, Azure IoT and its Healthcare Bot. Building on its traditional strength, Microsoft Cloud for Healthcare started offering a $95-a-month package that can help smaller practices manage health data at scale.
In April 2021, Microsoft acquired AI-powered speech-technology company, Nuance. The company's software can listen and transcribe doctor-patient conversations into organized medical notes. And of course, recent announcements come from the realm of generative AI. Like the cooperation with Epic, which also incorporates the use of Nuances DAX system. These new AI copilot capabilities aim to support healthcare professionals in areas like note summarization, ambient clinical documentation, improving administrative efficiency, or using real-time data to support diagnostics.
"Health systems using Epic's EHR system will be able to run generative AI solutions through Microsoft's OpenAI Azure Service. Microsoft uses OpenAI's language model GPT-4 capabilities in its Azure cloud solution." – the companies announced.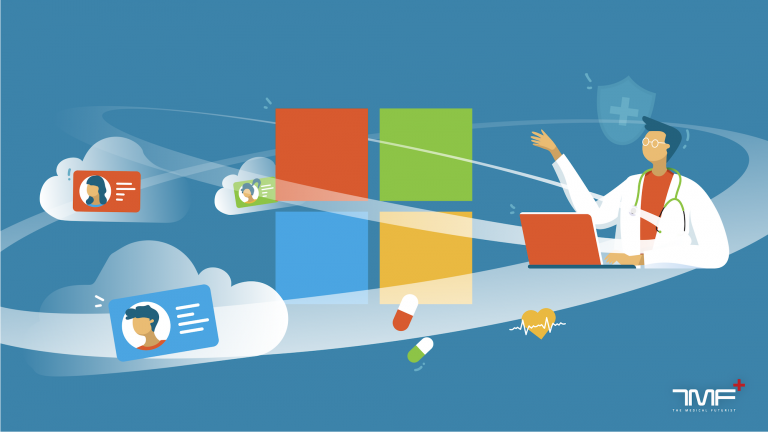 Thanks to its experience in IT solutions and its growing expertise in cloud computing services, Microsoft will most probably further expand its cloud computing architecture as well as its artificial intelligence tools for medical purposes. Its shift towards enterprise-level solutions rather than consumer-focused ones seems to be a more effective and cautious approach, considering its past failures and recent progress.
1st place: Google – anything and everything and all of the time
With a HIT index score of 15 points, Google tops the list in 2023 
Google has probably never intended to be just another search platform. This got even clearer when, upon introducing Alphabet, Larry Page said that they do not intend to become a conventional company. Well, they aren't indeed. Looking at their actions in healthcare, this is certainly true. But they really do know what people want to know more about. At a time when 7% of Google searches are health-related (that's about a billion a day or 70,000 questions per minute!), the tech giant knows what to do. Invest in healthcare.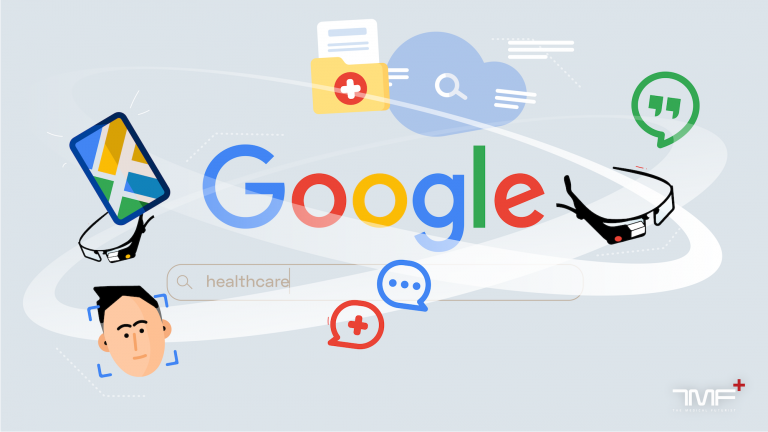 No matter whether it's about population genomics, artificial intelligence, longevity, or activity tracking, Google is there. And what's more, they started to conquer the three most important fields: AI, ageing and, in a broader sense, life science research. It seems they are everywhere in healthcare.
A very recent – and exciting – announcement from Google Cloud is that they teamed up with CareCloud to help ambulatory practices and other small and medium healthcare providers make use of generative artificial intelligence to inform clinical decision-making and boost operational efficiencies using cloud services.
By using Google's offerings such as Vertex AI and Generative AI App Builder, the company is developing tools to bring physicians at all practices the same AI-enabled capabilities that are increasingly available at large hospitals and health systems – but which are out of reach for smaller practices.
They could only be set back by their lack of experience in certain areas where they must rely on external researchers. But all-in-all, in spite of the complex health regulations and slow cultural transformation that are going on in the field, it is sure that Google & Co. could become a significant player in the future of healthcare. And if they are able to achieve meaningful progress in quantum computing…, only the sky's the limit.
The post The 2023 Healthcare Power Ranking Of Tech Giants appeared first on The Medical Futurist.
Source link