"I do think there will be a day when people looking back will say Apple's greatest contribution to the world was healthcare." this quote comes from the company's CEO, Tim Cook, talking about Apple's healthcare plans during the Time 100 Summit a while ago. This thought was repeated several times during the past years, but Apple seems to progress slowly, avoiding risks.
For its part, Apple entered the healthcare market later than its competitors but is working on acquiring a significant share of the market. Are the recent developments indicative of Tim Cook's statement? Let's see the steps that the company is taking to reach that vision.
The Apple Watch phenomenon
According to the latest data, Apple holds 22% of the global smartwatch shipment market. Although the actual figure quite heavily fluctuates from quarter to quarter, the company has held its leading position in this segment for quite some time. And of course, Apple has been heavily leveraging the popularity of its smartwatch for its healthcare plans as well.
With such a massive device penetration we didn't have to wait too long to see tangible evidence of what health benefits these devices can bring, from early instances to recent stories of wearables saving their owners' lives.
The fact that smartwatches can be reliably used to monitor certain cardiovascular parameters may seem like old news today, but it only proves how fast we adapt to such technological advancements.
Apple first received FDA clearance for the ECG function of its smartwatch in 2018 and has been working steadily on validating its efficacy in a number of studies. In February 2021, Mount Sinai researchers shared that their app and the Apple Watch's heart rate variability (HRV) monitor could help spot new COVID-19 cases before a molecular diagnosis.
The results of another study conducted by Stanford University researchers showed that the cardiac metrics that the Apple Watch monitors are as good as clinical tests. Their findings suggest that the Apple Watch could thus be adequate for remote monitoring of elderly patients with cardiovascular disease.
In April 2022, new Watch features were announced, including improved heart rhythm detection, followed by yet another round of updates in 2023, among others the latest watch iteration can track activity, steps, heart rate, respiratory rate, blood oxygen (lung function), wrist temperature, sleep, and environmental sound levels.
Recent reports indicating future development areas seem slightly more sci-fi-y, as the AirPods detecting electroencephalography (EEG), electromyography (EMG), electrooculography (EOG) biosignals or the patent application from Apple that relates to monitoring the posture and motion of a user while the user is engaged in a physical activity, such as exercise or a sport like golf- using smartphone, a smartwatch and a headset (e.g., earbuds).
With the widespread adoption of the smartwatch, Apple uses the opportunity to turn patients into point-of-care through the device, providing access to a never-before-possible abundance of health data – and sometimes, new sources of anxiety.
Healthcare? There's an app for that!
Apple's Health app aims to bridge patients and doctors, and all the data in between. Over the years, new and even newer features were announced for the app that further hammered in this aim. It already gathers health data from a user's iPhone, Apple Watch and other apps to make them accessible in one place. Now users in the U.S. can choose to share which types of data, such as sleep activity and heart rate, from those that they want to share with their doctor for specific insights.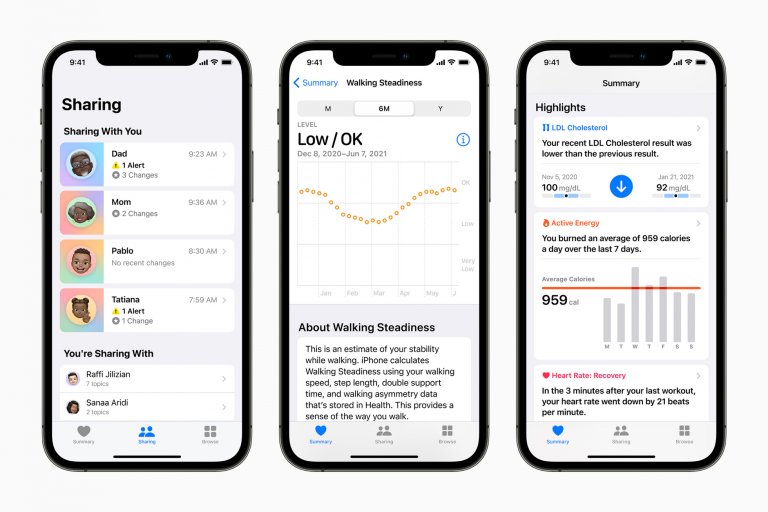 Perhaps the biggest feature update of the past few years was the integration with some electronic medical record (EMR) systems in the U.S., allowing users to share their health data collected by the app directly with EMRs. The feature that was first launched in the US is now available in Canada and in the UK as well.
Seamlessly sharing patient healthcare data from an Apple device to an EMR and viewable by a doctor or caregiver represents a major step in facilitating digital health approaches.
Healthcare designed by Apple
Mid-June 2021, Apple took an interesting detour in its healthcare plans. For a short while, it seemed that the tech giant does not plan to limit itself to smartwatches and apps; but also wants to provide a full-blown primary-care medical service of its own. The news came from an exclusive report by the Wall Street Journal that had access to insider contacts and documents.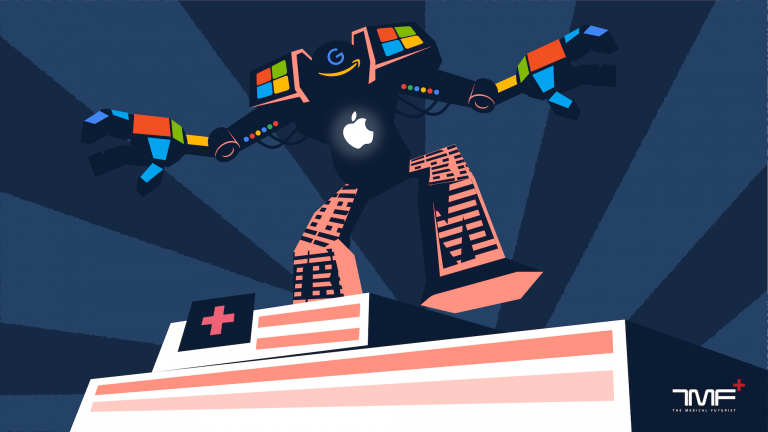 However, it didn't take long to learn that these efforts stalled as employees questioned the integrity of data collected through the services, and thus, the project hasn't moved past the preliminary stage.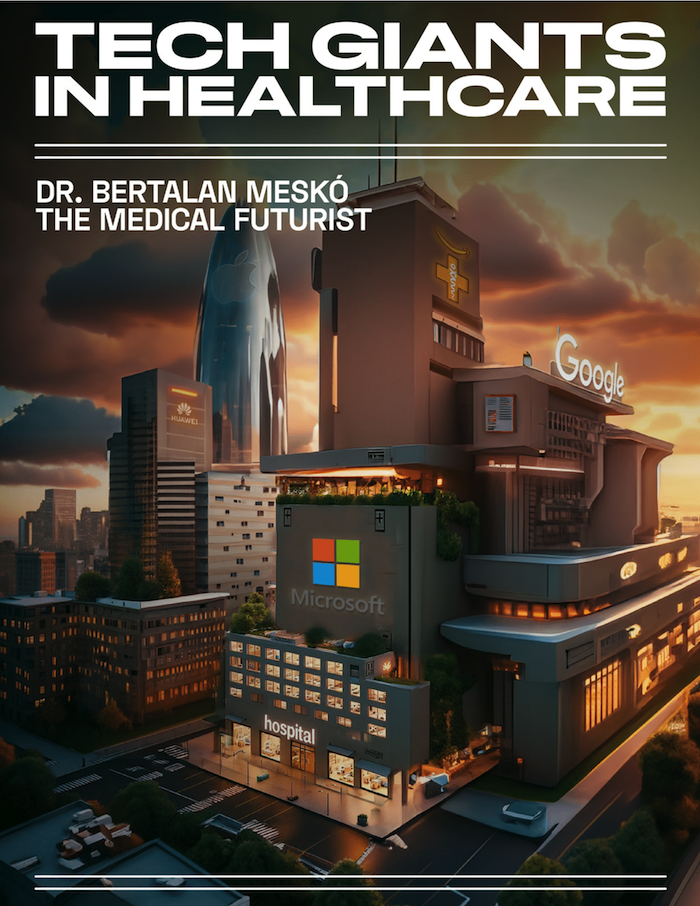 Tech Giants in Healthcare – Updated Edition
This comprehensive guide, Tech Giants in Healthcare, clarifies how and why big tech companies step into healthcare, and breaks it down from one market player to the other in what direction they are going, what tools they are using and what horizons they have in front of them.
Learning the ropes
Apple's healthcare plans are surely ambitious, but the steps it has taken show that the company is a newcomer to the field and is still learning the ropes of the industry.
For one, the aforementioned WSJ report also notes that people familiar with the project say that it "hasn't gotten off the ground"; and that Apple has struggled to move it past the preliminary stage. The integrity of health data from Apple's clinics to support product development has reportedly been an issue raised internally by some employees. The company has to ensure data privacy if it wants to directly handle sensitive patient data in its own clinics.
Another setback was when Apple released the Apple Watch 6, which included a blood oxygen saturation sensor, but the company did not seek FDA clearance for this feature even though they did seek it for the ECG function. While a drop in the oxygen saturation (SpO2) level can indicate an underlying respiratory illness, even if no visible signs are present, in a sense, they give the impression that ECG is a serious medical tool; while measuring blood oxygen levels is just for fun.
If Apple plans to make its wearable a point-of-care device, it might as well go the extra mile to validate its health sensors. This will prevent patients from getting anxious about abnormal readings.
Not tarnishing their reputation
A massive report from Bloomberg published in November 2023 analysed Apple's healthcare plans and revealed many formerly unknown details about their past progress in this field – like the fact that the company wanted the Apple watch to measure blood glucose levels from the start, or that they created a secret health company called Avolonte, which Tim Cook only visited with a low-pulled baseball cap "to avoid detection".
This analysis also underpins what we see from their past moves: heavy focus on their ecosystem and the seamless user experience it can provide and cautious moves outside their comfort zone, carefully considering their image and reputation and avoiding risking it.
Apple's more ambitious medical service project might have stalled but its general healthcare plans are still ongoing. In the short term, we can expect it to keep on focusing on wearables as the company steadily marches towards its grander – and supposedly top-secret – healthcare plans.
Written by Dr. Bertalan Meskó & Dr. Pranavsingh Dhunnoo
At The Medical Futurist, we are building a community for making a bold vision about the future of healthcare reality today.
If you'd like to support this mission, we invite you to join The Medical Futurist Patreon Community. A community of empowered patients, future-oriented healthcare professionals, concerned health policymakers, sensible health tech developers, and enthusiastic medical students. If there were ever a time to join us, it is now. Every contribution, however big or small, powers our research and sustains our future.
Click here to support The Medical Futurist from as little as $3 – it only takes a minute. Thank you.
The post Apple In Healthcare: How iPhone And Apple Watch Are Taking On Health appeared first on The Medical Futurist.
Source link