The elderly are not the archetypal target group of various digital health developments. We have already discussed the topic multiple times, however, nothing captures the main setbacks as accurately as this brilliant, and in my opinion, underrated sketch from Saturday Night Live. It's a timeless piece, all tiny details – the characters, the device design, the voiceovers – nuggets of gold.
Although features like continuous aFib screening (or blood pressure monitoring, alerts about changes in respiratory patterns, in gait, reminders on medication or drinking enough, and so on, and so on) would do more favor for the seventy-somethings than for the twenty-somethings, we just seem to acknowledge the status quo.
So we have a handful of well-known factors hindering digital health adoption in the elderly generation:
Most devices specifically target younger customers – as opposed to just simply not specifically focusing on the elderly
This results in usability issues, which range from not seeing the screen to not understanding the aim of the device/technology/solution
Often, our elderly relatives might not even consider that they could (let alone should) use such technologies
And of course, there are hard barriers: these devices are often not cheap and the elderly are more likely to have a tight budget.
Still, there is a growing body of evidence showing that we don't need to wait until today's youngsters grow into their golden years to make technology work for seniors. If we could just make older people want these devices, it would profoundly alter the situation.
When trying to determine who will/can use a digital health solution, we won't be able to set a universally valid age limit. Let's take a look at Peter and Klara, the parents of my friend. They are well in their 70s and they both received an emergency wearable from the local municipality. The little device can be worn with a neck strap, on the wrist as a watch, or clipped to the belt and has an SOS button connected to a 24/7 dispatcher service, it is waterproof and has a fall detection feature. Quite what you want for your elderly parents living on their own. While Klara is a happy user of the gadget and makes sure hers is always worn and properly charged, Peter's device lives on his nightstand. "It's impossible to always remember to wear it " – he grumbles when asked.
Both perceived usefulness and perceived ease of use are significantly linked to attitudes toward the use of digital health technologies – this study found. In other words: if you believe that you can use a device and trust in its usefulness, you'll have a much higher chance of actually feeling comfortable using said device and finding it useful. And the positive attitude is linked to tech literacy: the more informed you are, the higher the chances you will be optimistic about the technology.
Let's find good selling points, like prolonged independence
We can't just say to our parents/grandparents: you need to want to use this smartwatch and expect anything to happen – other than giving them a laugh. Or make them want to use generative AI by pointing out that they should do it.
So we need to find selling points, and one of the best is prolonged independence. Grandma might not want to use digital health, but she surely wants to live in her own place independently as long as possible. And she may want to use devices that make it possible.
"An overwhelming majority of respondents (93%) said aging in place is an important goal of theirs. Aging in place is considered the ability to live in one's home and community safely, independently, and comfortably, regardless of age, income or ability level" – this U.S. News & World Report survey found.
This survey shows that aging is the primary reason for using assistive or health-related technologies. And the primary reason for not using them is that people feel they don't need them yet. Only 16% of non-users cited financial reasons.
The things that matter most are that it's easy to use (75%), easy to set up (50%), accessible using a mobile app (38%), and wireless (37%). An overwhelming majority (88%) said that assistive or health-related technologies have improved their quality of life, and they provide a sense of independence for more than half of the respondents.
The invisible population
As the above-linked study discussed, a positive attitude is key and people with higher levels of digital health literacy have more positive attitudes. So what do we know about the digital health literacy of the elderly?
Well, not much. This scoping review targeted these specific questions. They started their work with a whopping 1,924 articles to analyse the current state of digital health literacy of the elderly. After applying the inclusion and exclusion criteria, only 47 articles were selected for the review. Of the vast amount of literature only a small subset focused specifically on older adults as per the defined criteria of the review.
Not only are the elderly not in our eyesight when we design these technologies, but they are also almost invisible when we analyse the field.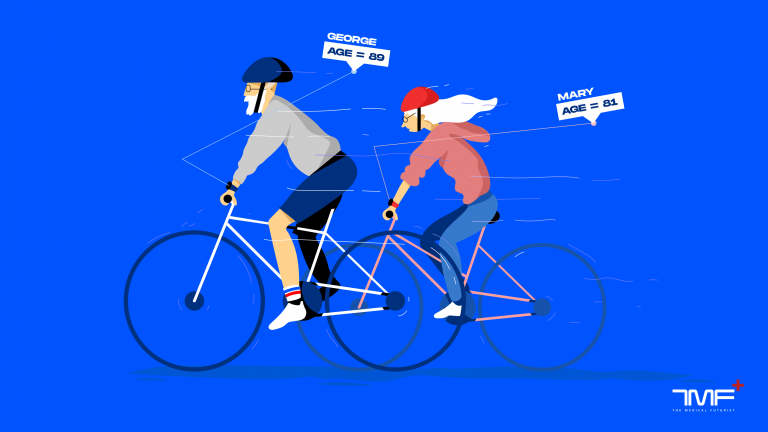 Here the authors identified four types of drivers of old-age digital health exclusion, namely structural, environmental, socio-technical and individual, which intersect with each other to increase the vulnerability of older people to exclusion from health services. We discussed the individual drive in detail above, that is the attitude one has towards the technology.
Structural, environmental and socio-technical drivers are primarily only modifiable by organizational and high-level actors (e.g. policymakers, and market players). We don't need to take old-age exclusion for granted though.
As policies and market evolution influence social norms and values, which can either facilitate or hinder older adults' access to digital health services, structural divides can be addressed with the right policymaking attitude. Environmental drivers – like technological infrastructure – are evolving, and although they are not typically developed with the elderly in mind, the general improvement in infrastructure benefits all age groups.
Socio-technical limits arise from product design, which is basically determined by a business perspective. Tech companies are after profit and rarely after philanthropic laurels, so we need to find the business rationale behind senior tech – like savings in healthcare spending.
The post Golden Years, Digital Gears: Digital Health For Aging Populations appeared first on The Medical Futurist.